Here's What We Do To Kids When We Don't Respond To Tragedy With Action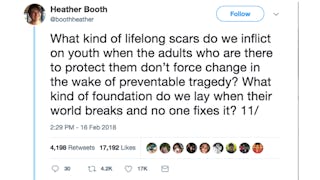 Image via Twitter
Viral Twitter thread explains why adults need to take action.
In light of the horrific Florida school shooting, it's easy to feel frustrated and helpless beyond belief. Our government and president don't seem to have anything to offer except thoughts, prayers, and other extremely vague platitudes. And — as a recent viral thread proves — that hideous inaction not only affects our psyches, but those of our children as well.
Heather Booth, a freelance editor, opened up on Twitter about a tragedy that struck her own school growing up, and the important, practical measures that were put into place as a result.
In 1995, an Illinois commuter train slammed into a school bus, killing seven students, and leaving more than two dozen injured. Booth recalled the aftermath of heartache, shock, and grieving that followed — much like what students and families experience after school shootings.
Time went on, and though the shock subsided, the sadness was still there.
And now here is where the story takes a turn from the school shooting narrative. Clear-cut action was taken and officials actually stepped up to the plate to make sure that flaws in the system were fixed.
"The thing that upsets me most–we teach our kids to learn the importance of accountability." National Transportation Safety Board Chairman James Hall said at the time, per Chicago Tribune. "In this accident, there was a failure of accountability by a number of organizations. This is the responsibility of the state and the school district. The state and the school district need to be responsible for ensuring kids' safety."
And — Booth explained — they owned up to that accountability. Big time. Their swift, calculated action sent a significant message to the children involved at the time.
Booth concluded by imploring adults to act like adults, and proactively look for solutions to fix this problem. Your children will take notice, she said.
This powerful, deeply important thread has resonated with people everywhere. Many responded that they plan to step up and participate in the fight for action — which is kind of the best thing you could possible read amidst all of this horrible fog of gloominess.
https://twitter.com/jetpack/status/964659585163210752https://twitter.com/jetpack/status/964823064197369856
So much applause to Booth for eloquently breaking down the effect that these unresolved tragedies have on our children — and reminding us that we can all do our part, no matter what that looks like for each of us.