These Are The 17 Victims Of The Florida School Shooting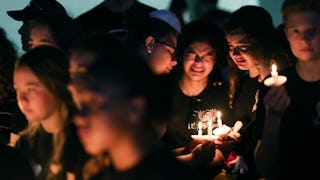 Image via Matt McClain/The Washington Post via Getty Images
Here are the victims, and these are their stories
It's been nearly two days since a former student allegedly open fired on the students, staff, and faculty of Marjory Stoneman Douglas High School in Parkland Florida using a legally purchased AK-15. As more and more details emerge, we look for ways to support the families and community dealing with such a horrific event.
We can offer our condolences and prayers. We can petition Congress to finally take action on gun control. And we can remember those who lost their lives far, far too soon. Broward County Sheriff Scott Israel announced yesterday that the families of all those who were killed in the shooting have been notified. Here are the victims.
Peter Wang, 15
Wang is survived by his parents and two younger brothers. According to his cousin, he was a member of the school ROTC program. Friends saw Wang Wednesday in uniform, holding the door for fellow students during the attack so that they could escape.
Scott Beigel, geography teacher
Beigel was a geography teacher. He was killed as he hearded students back into his classroom when the shooting began. He was a hero.
Alyssa Alhadeff, 14
Alhadeff was an amazing soccer player. The freshman played for Parkland Travel Soccer. She started the season on JV, but was thrilled to be called up to varsity by the end of the season. "A knife is stabbed in my heart," wrote her mother on Facebook. "I wish I could [have] taken those bullets for you. I will always love you and your memory will live on forever."
Jaime Guttenberg,14
Guttenberg loved to dance and perform. "We lost our daughter and my son Jesse Guttenberg lost his sister," her father wrote. "I am broken as I write this trying to figure out how my family gets through this."
Carmen Schentrup, 16
Schentrup took her studies seriously. The senior was a 2018 National Merit Scholarship semifinalist.
Joaquin Oliver
Known as Guac to his friends, Oliver came to the U.S. at age three after being born in Venezuela. He became a naturalized citizen in January 2017.
Alex Schachter,14
The freshman was proud to play trombone in the school marching band.
Martin Duque, 14
The freshman leaves behind a devastated brother. "Words can not describe my pain," he wrote on Instagram.
Helena Ramsay,17
"Helena was a smart, kind hearted, and thoughtful person," said a family member. "She was deeply loved and loved others even more so. Though she was somewhat reserved, she had a relentless motivation towards her academic studies, and her soft warm demeanor brought the best out in all who knew her."
Cara Loughran,14
Loughran loved the beach.
Luke Hoyer,15
Hoyer was a freshman who enjoyed playing basketball.
Meadow Pollack,18
A senior, Pollack leaves behind two older brothers, her parents and nine older cousins. She planned to attend Lynn University in Boca Raton after graduation.
Aaron Feis, a security official and assistant football coach
Feis sacrificed his life to save students. He was killed when he threw his body in front of kids to protect them from incoming bullets. The beloved coach leaves behind a wife and daughter.
Gina Montalto,14
The freshman was a member of the school band's winter guard. She was supposed to perform this weekend.
Alaina Petty,14
"Alaina loved to serve," her family said in a statement. "She served her community through her participation in the Marjory Stoneman Douglas JROTC program and her countless hours of service as a volunteer for the 'Helping Hands' program of The Church of Jesus Christ of Latter-day Saints."
Nicholas Dworet, 17
A senior and swim team captain, Dworet had recently accepted an academic scholarship at the University of Indianapolis. He had planned to join their swim team in fall 2018.
Chris Hixon, school athletic director and wrestling coach
Hixon was fatally injuring after rushing towards the shooting to try and help students. He is survived by his wife and a son with special needs. "It is devastating," Jason Stein, athletic director at nearby Taravella High School, told the Sun-Sentinal. "His son was with him everywhere. Chris epitomized what an athletic director was all about."
We're not interested in talking about the person who committed this heinous act. It's the victims' names that deserve to be etched forever in our minds and thoughts.