FL Teacher Under Investigation After Excusing Slavery & N-Word In Viral TikToks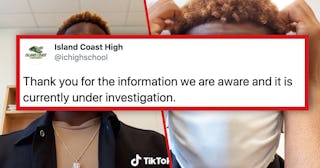 ichighschool/Twitter and hector/TikTok
Racist Florida teacher under investigation after viral TikToks exposing the educator's AP Government class go viral
A series of viral TikToks taken by a student at Island Coast High School in Cape Coral, Florida have gone viral as they feature an AP Government teacher claiming slaves were not abused by their slave owners, excusing the use of the N-word, and denying the existence of hate speech. The teacher, still unidentified, is now under investigation by the school district.
In the series of videos, the unidentified high school student, films himself as his teacher and fellow students can be heard in the background talking. In the first clip, a student asks the teacher about slaves being whipped by white slave owners, to which the teacher point-blank says "They wouldn't do that to the slaves." The student filming the video is as shocked as we are, and shouts, "How do you know that? Were you there? Like, how do you know?" The teacher threatens to kick the student out and flippantly suggests they "have an honest conversation" on the topic.
In the second video, a different student asks about the meaning of the N-word and the derogatory and offensive slur for which it represents, to which the teacher says, "The N-word just means ignorant. It doesn't have any other meaning in any other vocabulary other than you are a stupid person. You are ignorant. You are not well read. You are not well educated. That's what it means."
By the last video, the poor student filming these clips appears to be so over this racist and revisionist history lesson, when a fellow student is heard asking the teacher about the definition of hate speech and recites a piece of writing that relegates women to the "household cooking and cleaning" which the student says would be a good example of "hate speech" because it "attacks women."
"To you, that's hate speech," the teacher responds, which is the bigots version of "to anyone who might have been offended."
The female student then says, "But that could be hate speech to a lot of other women because that would have offended me. That would have offended a lot of the other girls in the room."
Now, the student who has been filming this whole time, jumps in to say, "[now] apply it to the N-word, too, because that might be hate speech to me but it won't be hate speech to you…"
The videos are infuriating as these kids do their best to try and educate their teacher (!), who continues to parrot bigoted, dangerous, and false information back at the them, under the guise of a U.S. history lesson.
"At this time, [the videos have] been sent to professional standards to be investigated," Debbie Jordan, the school board's chair, told News-Press. "We are definitely investigating this, as we would anything that would come before us."
School board member and former teacher Gwyn Gittens also told the publication that the district "has a lot of work to do."
"We are very short of teachers," Gittens stated. "I understand that, but we need to vet the few that we have to make sure that they're doing what it is that needs to be done."
"I'm not there to teach you how I personally, Gwyn Gittens, feel and what I believe," Gittens added. "I'm there to give you facts and teach you how to dissect and pick it apart and look at it and define it and use it going forward in your future to make our world better…that's where we have to look at what is our responsibility as adults in this situation and what lesson has been left in these kids."
On Sunday February 14, 2021 the school tweeted that it was "aware" of the situation and "it is currently under investigation." As of February 16, 2021, no decision about the teacher's conduct has been made.