Classmates Petition For JROTC Student 'Hero' To Receive Military Burial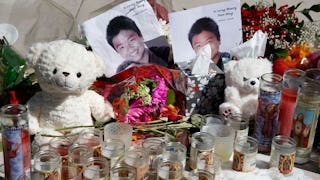 Image via RHONA WISE/AFP/Getty Images
Classmates asked White House for military burial for Peter Wang
Peter Wang spent the last moments of his life protecting classmates and teachers during the mass shooting at Marjory Stoneman Douglas High School last week. Now his fellow students are petitioning so the 15-year-old hero can have a military burial.
Nikolas Cruz, 19, is accused of shooting and killing 17 people with a semiautomatic rifle at the Florida high school. Wang, a freshman at Marjory Stoneman, held open a door so classmates and teachers could escape the rampage before him. "He was pointing the door open for other people to escape and then he was struck by the bullets," classmate and friend Aiden Ortiz told WPLG. "I want people to know he died a hero," the teen explained. "He died saving many people."
Wang, who dreamed of attending West Point military academy, was a member of the school's U.S. Army Junior Reserve Officer Training Corps (JROTC) program. Wang was wearing his JROTC uniform on Wednesday when the mass shooting occurred. "He is so brave. He is the person who is genuinely kind to everyone. He doesn't care about popularity," Lin Chen, Wang's cousin, told the Sun Sentinel. "He always liked to cheer people up. He is like the big brother everyone wished they had." Wang leaves behind his parents and two younger brothers, ages 11 and 5.
Wang's classmates are sure that there would have been more lives lost during the massacre had their friend not been so brave. To honor his sacrifice, they have filed a petition with the White House on the "We the People" site asking for a military burial with honors. It's a way to note Wang's efforts to serve and protect and would include a special ceremony with a flag presentation. The petition needs more than 86,000 signatures and currently has more than 17,000. Hopefully, the U.S. government will provide this small show of gratitude even without the signatures since Wang lost his life while saving others.
As more details emerge, we're learning that the students and teachers at Marjory Stoneman did everything they could to help each other during the horrific rampage. Assistant football coach and security guard Aaron Feis lost his life like Wang – while shielding others from the gunfire. Geography teacher Scott Beigel and athletic director Chris Hixon were both killed as they protected students. In the days following the shooting, we've also learned these student-victims will force America to enact the gun reform it so desperately needs.
"We are going to be the kids you read about in textbooks," explained Marjory Stoneman student Emma Gonzalez. "Not because we're going to be another statistic about mass shooting in America, but because we are going to be the last mass shooting."
This article was originally published on