Florida Gov Signs Anti-Trans Bill On 1st Day Of Pride Month Because He's Garbage
by Christina Marfice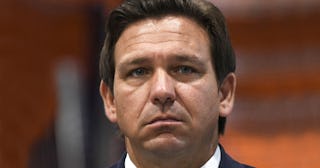 SOPA Images/Getty
Florida Governor Ron DeSantis celebrated the first day of Pride by signing blatantly anti-trans legislation for his state
It's June, and that means Pride is here once again. It's time to celebrate love and expression in all their forms and continue tearing down the walls of oppression that prevent LGBTQ+ people from living their best and truest lives. Unless, of course, you're Ron DeSantis, the garbage governor of Florida, who marked the first day of Pride by signing a controversial bill that bans trans women and girls from participating in women's sports in the state's schools.
Not only did DeSantis sign this anti-trans legislation, but he held an entire event to commemorate it. At his bill-signing at the Trinity Christian Academy in Jacksonville, he told reporters that the anti-trans bill would "protect the integrity" of women's and girls' sports. The new law prohibits athletes from participating in school sponsored women's and girls' sports from the middle school level on, unless they were "assigned female at birth."
"In Florida, girls are going to play girls' sports, and boys are going to play boys' sports," DeSantis said.
To which we reply, "Sure, Jan."
The bill has been at the center of some contentious debate for months now, which is not surprising to anyone who understands how human rights work, but also how Florida works. The ban's opponents, who include humans rights advocates and the trans community, have argued that the new law is pointless political posturing that further alienates trans people for no reason other than for DeSantis, who is said to be eyeing a presidential run, to score points with the far-right voting base.
There have been no issues with trans people and school sports in the state of Florida. The bill's supporters could only point to a case in Connecticut, in which trans girls won some track and field titles. That case has become like a bat signal for conservatives who spend more time worried about students' genitals than actually governing.
The Florida law is set to go into effect on July 1, but the Human Rights Campaign has already announced that it intends to sue the state and take a battle over the law to the courts to decide.
In conservative states, these laws are becoming more common — Idaho passed one last year, and Tennessee, Arkansas, and Mississippi all passed their own versions this year. Idaho's law is currently the subject of a federal lawsuit, and human rights advocates have promised to challenge the laws in other states, as well.