Parkland Survivors Just Watched Florida Lawmakers Vote Down An Assault Weapons Ban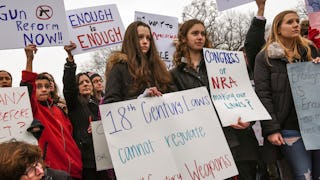 Image via Bill O'Leary/The Washington Post via Getty Images
Students from Parkland travel to the capitol to speak with lawmakers, only to watch them vote against a gun control measure
On Tuesday, the Florida state House opened its session with a prayer for the 17 victims of last week's Marjory Stoneman Douglas High School shooting in Parkland, Florida. Then they promptly voted against a proposal to consider removing AR-15 rifles, other assault weapons and large capacity magazines from the state.
House Bill 219 was scheduled for discussion by three subcommittees before being brought to a vote by the House. With the end of the legislative session on March 9th looming and the horror of Parkland fresh on everyone's mind, House Rep. Kionne McGhee of Miami looked to speed the process along. She asked that the bill be removed from committee and taken to the House floor then and there for debate, questions, and a vote. This was a chance for lawmakers to take action, to do something right now to show kids and parents that children's lives, and the lives of the faculty and staff in schools, matter.
Watching the session were student survivors from Marjory Stoneman Douglas High School, who set out early that morning for the capitol with plans to speak with lawmakers over the next couple of days about the need for gun control reform.
The motion to consider the bill failed, 36 to 71.
Men and women elected to serve the people of Florida sat in front of children who spent hours cowering in classrooms and closets, not knowing if they would ever see their families again, children who've had to bury best friends and cherished teachers, and had the audacity to tell them their concerns weren't even worth discussing. The vote wasn't anywhere near close. Let that sink in.
Earlier that morning, 100 students from Marjory Stoneman Douglas set out for a roughly seven hour drive to the state capitol. They were armed with sleeping bags, snacks, incredible amounts of strength and poise, and confirmed appointments to speak with lawmakers about their concerns over gun control.
Due to one of the buses having air issues and a delayed departure, not all of the students were present in the House when the bill was voted down. Some of them heard of the bill's failure while still en route to Tallahassee. While they're rightfully frustrated that the adults in charge don't seem to care enough to even have a debate about measures to make them safer in school, they're taking to social media to make it clear that there's no way they're heading home yet.
The Florida house vote should be infuriating to anyone who values human life. To not even consider a bill, to flat out refuse to discuss the issue, especially with survivors present, tells us everything we need to know about those lawmakers' character and integrity.
But these teens, and others across the country, are mobilizing to make sure they can't be ignored forever. Those students who travelled by bus still plan on meeting with lawmakers tomorrow, and a national March for Our Lives is in the works for March 24.
And as Parkland senior Julia Bishop noted on her way to Tallahassee, if lawmakers aren't willing to listen to their constituents, they'd do well to remember that these these teens won't be teens forever. And what better way to celebrate turning 18 than a trip to the polls on Election Day.