The Flower Pot Wine Keg Is Here To Kick Your Mother's Day Game Up A Notch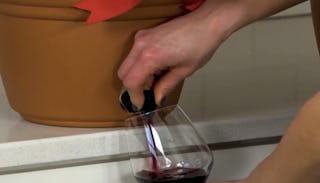 Image via Instagram/The Food Network
Grab a box of wine and a flower pot and you've got yourself a nice little Mother's Day
Mother's Day is right around the corner. That means for one fun day moms get spoiled with breakfasts in bed, handmade gifts from their kids, and maybe if we're lucky, five goddamn minutes in the bathroom by ourselves. If you're reading this thinking, "I'd be happy with some wine and flowers," today's your lucky day — the flower pot wine keg is here to make all your dreams come true.
The Food Network shared a video on Instagram showing fans how to make wine magically appear out of a flower pot, which leaves many of us wondering how the hell we didn't think of this before now. "FLOWERPOT WINE KEGS ARE REAL!" they posted in all caps, because something this monumental should only be introduced to the world with a shout.
These flower pot wine kegs are the only Mother's Day present you'll ever need. Plop this puppy down in the middle of your brunch festivities and watch all your cares disappear. Kids refusing to eat their veggies? Husband leaving the dishes in the sink because he still believes a magical fairy loads them into the dishwasher? Dog deciding now seems like a ideal time to poop on your new rug? It's of no concern to you. You have an endless supply on wine on tap and zero fucks left to give.
The best part? You fill the pot with fake flowers so there's literally no way to kill them. What a time to be alive.
When my husband and I first met, I made it crystal clear he was to never, ever (ever) buy me flowers. I don't like them, I have no interest in keeping one more thing alive in my home, and I personally think they're a huge waste of money. I would like to now make it clear fake flowers, especially ones sitting atop a giant box of wine, are absolutely acceptable.
If you're feeling crafty, The Food Network lists out all the directions and items you'll need to make all your Mother's Day dreams come true. Just grab one five-liter box of red, white, or rose wine with a spout, a plastic terra cotta-style flower pot, some plastic flowers, and a few other items and next thing you know you're drinking from a house plant. Boom.