Stumped About Last Minute Gifts? Hello FLOWERS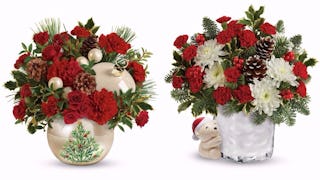 Image via Teleflora
Flowers are the perfect last-minute gift and one you probably never think of
We all have that one person (or maybe more than one) who's never easy to buy a gift for, and with December already half over, it's time to panic if you're out of gift ideas.
Scratch that — no panicking allowed. Because you can totally send flowers and it will be a gift loved by pretty much anyone.
Teleflora makes it possible for you to send a stunning floral arrangement to anyone in North America. They work with 10,000 member florists across the continent, which means the flowers you send are prepared and delivered locally, arriving on your loved one's doorstep from somewhere close by. Which means they arrive looking fresh and amazing — and probably from a florist you've already used.
Behold.
I say this with confidence because those are my flowers sent to me by a Teleflora florist and they look exactly like the website shows they should look — in other words, perfect.
Our editor sent us all flowers last week, a fun surprise that prompted reactions like:
"OMG, they're SO gorgeous! Thank you so much!"
"They're so pretty and they smell like Christmas! I NEVER get flowers!"
"OMG. FLOWERS!"
Seriously, you'd think we had gold bars sent to their front doors, we were all so excited. These are women who live literally all over the country — some are moms, some are not. Some are married, some are single, but they all have one thing in common — they lost their ever-loving minds when they got a surprise floral delivery, and so will anyone on your list who's difficult to buy for.
There are several choices for sending beautiful holiday-themed flowers.
There's the Send a Hug® Bear Buddy Bouquet, full of perfect blooms and accented by a little bear hugging the vase. Like all of their Christmas arrangements, it comes in three different sizes with corresponding prices.
The Vintage Sleigh Bouquet, the one I received, makes a perfect addition to your holiday decor. My kids love the adorable sleigh it comes in and a week later, the flowers still look (and smell) incredible.
If you need a gift for someone you know will be playing hostess this year, check out the Winter Pines Centerpiece. It would be perfectly at home in the middle of anyone's holiday spread. No joke, I have zero ideas for my mom and this is now in my cart — you can even specify the day you want the flowers delivered, so the arrangement is fresh for whenever their holiday entertaining happens to be.
If someone on your list is a big Thomas Kincade fan and you've given them all the Kincade items you can find (Grandma Greta, I'm looking at you), try the magical Thomas Kinkade's Family Tree Bouquet. It comes with an adorable Kincade collectible that can be kept long after the flowers are gone.
The Classic Pearl Ornament Bouquet comes in a super unique container that looks like a vintage Christmas bulb, and I want a dozen sent to me now, please. It's just too pretty.
So now you have a bunch of beautiful gift ideas to send to someone you love, even at the last minute. Teleflora can often arrange same-day delivery and the recipient will be so damn happy that even if they find out it was a last-minute gift, they won't care one bit. Take it from a woman so stunned to receive surprise flowers she literally burst into happy tears.
That woman was me and I own it. Like, did you see them?
Editors may receive samples. All opinions are our own.
This article was originally published on