Only One Child Has Died From The Flu This Season
by Kristine Cannon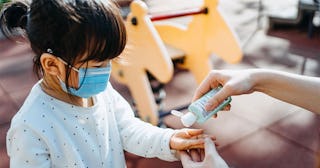 d3sign/Getty
Last year, nearly 200 children died from the flu
Over the past year, we've strapped on face masks and practiced social distancing in an attempt to slow the spread of the novel coronavirus. And while we've tragically lost nearly 525,000 Americans to COVID-19, we've considerably lowered the number of flu-related cases and deaths, especially among children. According to the Centers for Disease Control and Prevention (CDC), just one child has died of the flu this season in the U.S. In previous years, hundreds of children have died of the flu.
"No new influenza-associated pediatric deaths were reported to CDC during week 8. The total for the 2020-21 season is one," the CDC's weekly report states.
During the 2019-20 flu season, 195 children died of the flu, according to the CDC. But due to the mask-wearing among adults and children this past year, the influenza virus is infecting fewer people. According to Lynnette Brammer, lead of the CDC domestic influenza surveillance team, only 0.1 percent of flu tests are coming back positive this season; whereas at this time in past years, 20 to 30 percent typically come back positive.
"I think that that obliteration of the flu epidemic, which was seen globally, tells us that the way that influenza is transmitted from one person to another might really have been impacted by the use of masks, more than anything else," Flor Munoz, a member of the American Academy of Pediatrics' infectious-diseases committee, tells The Washington Post.
For comparison, the 2018-19 season saw 144 pediatric flu deaths and 188 during the 2017-18 season.
Adults are also experiencing a plummet in influenza deaths this season, with about 450 so far this season versus roughly 22,000 last year.
"I think this has clearly shown that masking, distancing, hand-washing — all these things clearly work," Aaron Milstone, an epidemiologist and professor of pediatrics at Johns Hopkins University, tells the Washington Post. "So, I think the question will be, how much appetite do people have for all that to prevent influenza, instead of just Covid?"
Experts warn, however, that the next flu season may be worse, as scientists have had a difficult time determining which strain is most dominant this year, in turn making it hard to predict which strains to develop vaccines for next year.
"They may not guess the right strains to make the vaccine against," says Andrea Kovacs, chief of the division of pediatric infectious diseases at the University of Southern California.
Kovac adds that it isn't too late for the flu to surge this season, especially if coronavirus restrictions are relaxed across the country.
"We could have a maybe small, but late, flu season," Kovac says. "Just really hard to say."