Only Half Of Adults Plan To Get A Flu Shot This Year, But Why?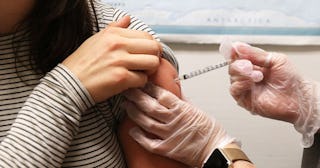 Justin Sullivan/Getty
Flu season is upon us and yet, only 50% of adults plan to get a flu shot
The World Health Organization listed the "global influenza pandemic" as one of the ten greatest threats to global health in 2019, and yet — for some reason — nobody wants to get a flu shot. Flu season is upon us and health officials continue to emphasize how important it is that anyone over the age of six months get vaccinated annually, and yet the National Foundation for Infectious Diseases (NFID) (via ABC News) ran a study this summer and found that only 60% of adults believe that getting a flu vaccine is a good idea, only 50% of adults plan to get the vaccine this flu season, and to make matters worse, the CDC claims that only 40% of Americans will actually follow through on the plan and get a flu shot.
It's confounding why people won't get the flu shot, though some of that could have to do with lack of access and resources. 8.5% of Americans do not have health insurance, many drug stores that offer "free flu shots" don't take all insurance carriers, and making an appointment for a simple flu shot might seem like a burden to some.
However, when ABC shared this story on Facebook, a number of commenters chimed in with anecdotal and pseudo scientific reasons for why they don't like flu shots. Many commenters shared evidence that they either got sick after getting a flu shot or they've never had the flu which they seemed to attribute to not having gotten the vaccine. Others chimed in with unproven holistic remedies.
Per ABC News, Dr. Bill Schaffner, medical director of the NFID, stressed the importance of getting an annual flu shot especially for "vulnerable populations like pregnant women, young children, older adults, and people with chronic health conditions." He also stated that even if you get a flu shot but later contract the flu, it will likely be shorter and less severe and you'll be less likely "to have complications like pneumonia, hospitalization and dying."
It is baffling that anyone would avoid the flu vaccine when the CDC reports that 80,000 Americans died due to the flu during the 2017-2018 flu season. Dr. Patricia Whitley-Williams, NFID's president elect, stated that 135 children tragically passed away from the flu last season and that only 63% of kids got a flu shot that year.
"Vaccine preventable diseases will persist in the United States," Schaffner said, unless we prioritize the flu vaccine.
To that point, the CDC created this handy document dispelling the common myths about the flu vaccine (no — the flu shot will not give you the flu). And on that note, go out there and get vaccinated, and preferably before the end of October.
This article was originally published on