Flight Attendants Celebrate Parents Flying Home With Their Newly Adopted Baby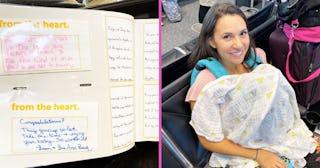 Courtesy of Caren Moore
Flight attendants and passengers surprise new parents mid-flight after finding out they'd just adopted their infant daughter
Bringing a newly adopted child home can be a nerve-wracking experience. In many cases, your first moments as a parent are spent flying on a plane with a newborn child. For one California couple, their first flight as a family with an eight-day-old infant was spent on a SouthWest flight and unlike most viral stories about plane flight, this one had a happy ending.
Dustin Moore took to Twitter to tell the story of how the flight attendants and other passengers on the plane threw the family a makeshift "baby shower" once they found out that he and his wife Caren Moore were flying with their newly adopted daughter.
"Not too long ago, my wife and I boarded a [Southwest] flight with our recently adopted infant daughter," Moore wrote on Twitter. "[With] clearance to return home to California, my wife carried our precious bundle, while I offered numerous apologies to passengers while maneuvering the aisle with 4 bags."
Moore said that he needed to change his daughter's diaper mid-flight and the flight attendants graciously cleared a space in the back for the family. However, this prompted the flight attendant and another passenger to ask why they were flying with such a young infant, so Moore told them that they'd recently adopted their daughter in Colorado and were flying back home to California.
Then, another flight attendant stopped by to congratulate the couple. The couple thought nothing of it until that same flight attendant came over the intercom with a special message for the family.
"The attendant Bobby came on and announced a special guest on the flight. Our daughter," Moore wrote.
"'She's just been adopted by her parents Caren and Dustin, and is making her way home,'" Moore recalled the flight attendant saying. "The entire cabin erupted in cheers and applause."
Then, the flight attendants handed out napkins and pens and all the passengers wrote sweet notes of advice and encouragement to the new parents.
"What all of those perfect strangers and attendants did not know, was the emotionally tender state of two brand-new parents," Moore added. "Parents who after 9 years of trying had been blessed with their first child. Parents who felt scared, but determined in their new role."
"The outpouring of love from that flight, brought on by the actions of two thoughtfully observant flight attendants… it exceeds my ability to describe what it meant to us. How much those wings and written notes uplifted two new parents determined to love their new daughter."
This beautiful day happened back in November 2019 and Caren and Dustin memorialized the moment by saving all the napkins in a photo album so one day their daughter will know how loved she was when she came into the world.