Let's Follow Matt McGorry's Lead And Read This Book Right Now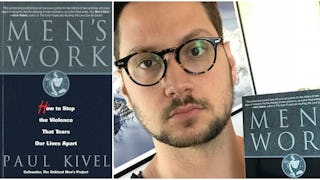 Amazon (left image) / Matt McGorry / Instagram (right image)
Yes, this world has been a veritable shit-storm these past few years, but that doesn't mean there haven't been some glimmers of hope. Take the issue of women's activism. Thanks to movements like #MeToo, we are seeing women from all walks of life calling out the sexism, harassment, violations, and violence that they experience on the daily.
Internalized misogyny is everywhere and it's about time we all became aware of this fact, that we work our asses off toward changing this – and, of course, that we help bring any perpetrators of violence against women to justice. But this work can't just fall on the shoulders of women, as it almost solely has so far.
We need the men in our lives – as well as the boys we are raising – to come to terms with the misogyny that has become ingrained in their psyches just by virtue of being members of this society. We need them to learn to identify it, even if it's uncomfortable at times, and then be proactive about changing how they interact with women, men, and each other. The time is now, folks.
Matt McGorry, of OITNB and How To Get Away With Murder fame, is up for the task. The actor, body builder, and "activist and intersectional feminist" (according to his Instagram profile), took to Instagram recently to recommend a book that all men (and women) should read in order to get more comfortable with becoming advocates for women's rights, and to come to terms with the internalized misogyny that exists within us all.
The book is called Men's Work: How To Stop The Violence That Tears Our Lives Apart, and it's by Paul Kivel, a social justice activist, educator, and writer. Based on Kivel's experiences working with men at Oakland Men's Project, the book, according to its publisher, "helps men confront the political, social, and personal forces that generate and reward misogyny, hatred, anger, and violent behavior."
Awesome, right? The book even has exercises and activities men can do to work through these issues. Now I call that a win.
McGorry – who frequently reviews social justice books on his popular Instagram account – read the book, highlighted his favorite passages (which he posted pics of on Instagram), and shared his passionate review.
"I loved this book," he says, encouraging men in particular to get a copy of it. "In the wake of how much men's violence against women has come into the public eye in the past few months," he says, "we owe it to ourselves and the women in our lives to make a serious effort to understand how we got here and what we can do to change the culture."
THANK YOU. Yes, we freaking do. Listen: I know it isn't easy to confront these things. And many of us have real resistance to the idea that misogyny is something that we all have been exposed to. But this isn't about pointing fingers, or saying that we are all assholes. It's about learning the ways in which we consciously and unconsciously have internalized these ideas – and what actionable steps we can take to change that.
"As men," says McGorry, "we constantly receive messages on 'how to be a real man' for our entire lives. Unfortunately, so many of these expectations are actually harmful to us, and result in us being unable to live our best, fullest lives." McGorry says that this socialization starts at birth, lasts a lifetime, and that it is "so pervasive that it becomes what is considered normal, to the extent that it's practically invisible."
Exactly: it's not that all men are macho jerks who walk around snapping women's bras (or worse), but we are all steeped in a culture that devalues and victimizes women, whether we are aware of it or not. And that is why we all need a book like this to help us think critically about the role that toxic masculinity plays in our lives, and to have some tools at our disposal for confronting that.
Inspired by the book, McGorry calls out some concrete ways that men are shaped by the damaging models of masculinity around them.
"We are constantly swayed away from fully naming and exploring our emotions, asking for help, working in equal partnership with women, even considering the possibility that we can turn down sex," he says, adding that men are also taught not to develop "deeper, more intimate and authentic relationships with the men in our lives (for fear of 'seeming gay')," and that men even have trouble forming deep bonds with their female friends, "because we are trained not to see them as leaders and to objectify them."
AMEN to all of that. It's time for change — and we are so ready.
If you are looking for more of the incredibly important work that Matt McGorry is a part of, check out this groundbreaking video series, We Are Man Enough, where McGorry (along with Justin Baldoni, Jamey Heath, Lewis Howes, Scooter Braun, Tony Porter, Karen Alston, Alma Gonzalez, and Yazmin Monet Watkins) discuss the role of men in the age of #metoo — and where to go from here.
So walk, don't run, to your local bookstore (or, ummm, online retailer) and get yourself this book (and check out McGorry's video series too!). We all need to take action to make this world a safer more equitable place for us all – women and men – and this book is a fantastic way to start.
This article was originally published on