8 Celeb Moms Who Are Killing It On Social Media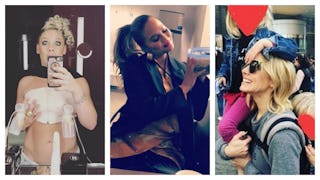 P!nk / Instagram chrissyteigen / Instagram kristenanniebell / Instagram
Being in my 30s is weird because I'm still sort of the Hollywood-obsessed girl who hung Titanic posters on her wall and pined over Jared Leto. Only I'm a grown up now. And a mom. I still like getting my famous-person fix, though, so I might click on E! now and then and follow a link to find out who, exactly, Selena Gomez is dating.
But honestly, my favorite thing (now that I'm a SAHM with a degree in butt-wiping) is to follow celeb moms. Hearing about Kristen Bell doing a mound of laundry or Jennifer Garner's kids hating her cooking gives me life. Because if they have to deal with that shit, even though they probably have assistants and cleaning services and nannies, it makes it suck less that I do too.
That's motherhood for you—whether you live in a 20,000 square foot palace in the Hollywood Hills, or on a cul-de-sac in the Midwest—we all get pooped on. We all drag our kids unwillingly out of the toy store, getting side-eye from Judgy McJudgerson in aisle 4. We all know how important it is to support each other. To commiserate. And to laugh.
So here are 10 completely relatable IG and Twitter accounts (that happen to be run by famous moms) to follow. They'll make you feel less alone and prove that the great equalizer—the thing that puts us all on the same playing field—is motherhood.
Everyone's favorite bad-ass mom, P!nk holds nothing back. And we love her for it. Just recently, when preparing to sing our national anthem for Super Bowl LII—a lifelong dream of hers—the mom of two shared on Instagram that she had the flu because she has "two small Petri dish kids who literally cough INTO MY MOUTH and rub their snot on my cheek." Who hasn't been there, amiright?
You can follow all her awesomeness on Instagram and Twitter.
You know she was going to be on this list. This girl is savage. And freaking hilarious. From her Donald Trump clap-backs to her sanctimommy takedowns, she never ceases to make us laugh. And as the queen of social media, she takes no shit and gives zero fucks. She's a glamorous super model, but you'll get a hefty dose of snark with her tweets and on her IG feed, you'll see a video of her in sweats, singing Barnyard Dance with baby Luna.
Country music star and wife to NFL player Eric Decker, this mom of two (soon to be three) keeps it real on her social media (both Instagram and Twitter) by sharing belly-pics (makeup-free and wearing sweats) as well as shots of her husband grocery shopping with their kids. As seen on IG, her family eats pizza and french fries, AND she and her husband wore matching red striped pajamas on Christmas. Seriously the cutest.
We've loved her since Alias. We hurt when she hurts (I'm looking at you, Ben) because she's just so fricking adorable. And despite being a gajillionaire and living through a public divorce, she's still an awesome mom, peddling Girl Scout cookies, trying to make homemade bagels, and wishing her kids would go the fuck to sleep.
This girl is a bad ass boss lady. Actress, successful cook with best selling cookbooks and a Food Network show, and an adorable family with NBA husband Stephen Curry, this girl embodies #momgoals in every way. The mother of two girls (with a baby on the way) keeps busy making food I want to eat every second, and managing a loving and supportive family. How do I get an invite to her Thanksgiving this year?
In the meantime, we can follow her on Instagram and Twitter.
This IG pic and caption is everything. Talk about a down to earth girl who gets it. Actress and mom to two daughters and wife to actor Dax Shepard, she advocates for women's rights to be safe, healthy, and pushes us to speak up and seek help we need it. And, the Bad Moms star says it's important to laugh and love as much as possible. She's my BFF. She just doesn't know it. Sigh…
Guess I'll just keep following her on Instagram and Twitter.
Everyone's favorite funny girl, Anna Faris is now a best-selling author, movie star, TV star, and single mom to son, Jack. We've loved her since she birthed Monica and Chandler's twins and will continue to follow her shenanigans well into the future. She embodies humor, grace, and how women should support one another.
You can get in on some of that feel-good action by following her on Instagram and Twitter.
I'm not going to lie, her Sean Spicer impersonations alone are enough to follow Melissa McCarthy's Instagram (she's also on Twitter). But on top of that, you'll find an endless stream of hilarity and joy from this incredibly talented woman who fights for a long list of causes that matter to us all.
Seriously, follow these hysterical and inspiring women—who happen to be moms—for proof that there are successful women out there who support each other. And that women in general are amazing.