10 Ridiculously Cute Gifts For The Foodies In Your Life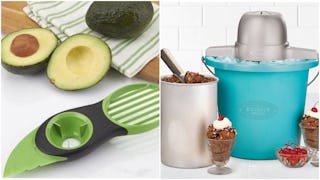 Image via Walmart
The foodies in your life deserve all of the cool swag for the holidays
The holidays are coming up and it's time to shower the foodie in your life with all of the cutest, most delicious goodies. Will they die and go to heaven several times when they receive an avocado face mask, a mini waffle stick maker, and some really nice knives? Yup, yup they will.
Let's start with the mini waffle stick maker because…duh. This cutie is baby blue and will bake four waffles in minutes. Breakfast just got so much easier and so much more fun.
There's nothing a foodie appreciates more than a really, really good knife set (well, that and the meal that comes after the cooking is done). This one comes complete with great reviews and a selection of pretty colors.
Your foodie friend will definitely need a really nice drink to complete their meal. Enter: this cocktail kit. Your bud can play bartender and everyone else can reap all the benefits.
And for dessert? Homemade ice cream. Let the drooling begin.
Your foodie BFF needs to keep warm during the winter. These toast handwarmers will do the trick AND they're extremely adorable. Win-win.
Avocados are amazing. The whole avocado pitting and slicing process? Not so much. This gadget will make it all so, so much easier.
Speaking of avocados, your foodie bud probably won't mind slathering some of that rich, healthy fruit on their face. This face mask promises to firm and condition pores, while purging dirt and oil. Yum, yum.
No foodie can turn down jam samplers (featuring Continental Cherry, Bodacious Berry, and Apricot Chunky Pineapple).
What do you get when you combine delicious food with all of Chrissy Teigen's gloriousness? A recipe book that will make you drool and giggle a whole lot.
And while they're making all this delicious new food, they'll probably need a stand for their cookbook. This one features an important reminder about dessert.
Your foodie friend is about to have the happiest holiday ever (and fingers crossed that you can get in on some of that homemade ice cream action).
We are a participant in the Walmart.com Affiliate Program and may earn fees by linking to Walmart.com and affiliated sites.
This article was originally published on