Football Coach Died Protecting Students During Florida School Shooting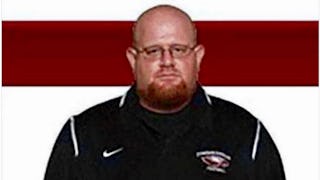 Image via MS Douglas Football/Twitter
Aaron Feis shielded students from gunfire during yesterday's mass shooting at a Florida high school
Details from the horrific Florida school shooting are continuing to emerge — and each piece of news is completely, devastatingly gut-wrenching. Assistant football coach and security guard Aaron Feis has been pronounced dead, after shielding a group of students from the shooter. A spokesperson from the school's football team told CNN that Feis was a "kind soul…a very nice man…[and] died a hero."
Feis was one of the 17 people killed at Marjory Stoneman Douglas High School yesterday when a former student stormed the campus and opened fire around the time students were being dismissed. "[The coach] sprinted with everything he had towards it to make sure everybody was safe, and I heard that he got in front of a couple people and shielded them, and he actually took the bullets for them," one student told Fox News.
The high school's football team announced the heartbreaking news on Twitter, saying that Feis "selflessly shielded students from the shooter" after he had been shot. "He died a hero and he will forever be in our hearts and memories," the post read.
Tributes for this fiercely brave man have poured onto social media. Many Twitter users posted a picture of Feis, and said that they choose to focus their time and energy honoring him, rather than dissecting the shooter's personal story. Amen to that.
Feis leaves behind a wife and a daughter. Douglas football coach Willis May called him an "excellent family man."
"Big ol' teddy bear," he told Sun Sentinel. "Hardcore – he coached hard…he took pride with working with those guys. Loyalty – I trusted him. He had my back. He worked hard. Just a good man. Loved his family."
Feis was among several teachers and school support staff who leapt into action during that horrific day. Teacher Melissa Falkowski managed to hide 19 students in a classroom closet while the shooter tore through campus. "This is the worst nightmare that could ever happen to you," she later told CNN.
A janitor also quickly diverted a group of students away from the direction the shooter, while another teacher opened up her classroom door so that they could run in and hide. "Without her, who knows how many of us would have died, 'cause we were easily 100 feet away from the freshman building," high school senior David Hogg told KTRK.
So much love and appreciation for the brave, kind souls who did everything they could to protect these students under such terrifying circumstances.
We're going to see a lot of pictures of the shooter in the upcoming days, along with details about his past and his motives — but that's not necessarily what any of us should focus on. The only face and name that deserves our attention right now is Aaron Feis and the 16 other people who lost their lives to this senseless act of violence.