Community Outraged After Video Shows High School Football Players Beating Duck To Death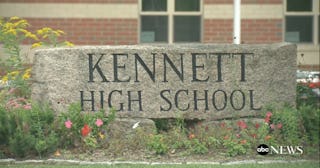 ABC News
The players used a broom to beat the duck to death and received up to three game suspensions, possible counseling, or community service
A group of high school football players were recently captured on video beating a duck with a broomstick then strangling it until it died. It happened in Moultonborough, New Hampshire at a football training camp near the end of August according to WMUR and the horrifying footage has the community petitioning for a harsher punishment than the one the students received.
The students, who attend Kennett High School in North Conway, were seen in a video that emerged online luring a duck out of the water, then beating it over the head with a broomstick. When the duck was seriously injured, another student went over and strangled it to death, essentially euthanizing the animal.
"The heinous activity of a duck being hit over the head with a broomstick is what ended up happening," Kennett Consolidated School District Superintendent Kevin Richard. "It was maimed pretty badly."
When the video was posted online, many concerned viewers started calling the school to express their outrage. Then, the students seen in the clip were suspended for up to three games. Some will also receive counseling or community service, based on their level of involvement, Superintendent Richard said.
"There are very strong opinions both ways, and you try to come back with what you think is reasonable, and also recognizing that these are adolescents that make bad choices and this was a grievous mistake," he said. "Some mental health pieces, social and emotional pieces and educational components related to it."
While the incident itself is seriously disturbing, people are outraged that the punishments don't seem to fit the crime. Animal cruelty is a grave matter and community service (which only the most involved students will receive) feels a bit light.
A petition asking for harsher punishments for the players was started five days ago on Change.org and already has over 3.4k signatures. "I would like to know what came through your minds when you decided to beat an unsuspecting duck with a broom and then continue to strangle it to 'put it out of its misery' you killed an animal," the petition reads. "An innocent animal it truly makes my disgusted that you're ONLY OUT FOR A COUPLE OF GAMES. I truly wonder what made you do this. I am 100% ashamed to walk the same halls as you at school."
But David Walsh, who is the Fish and Game Major says the students can't be charged criminally because they are minors. "Their parents would be charged, and the fines are small, so suspensions and community service, everyone agreed, would be the effective punishment."
Still, it seems like yet another example of entitled student athletes getting away with just about anything and people want to see justice served, as well as a much firmer lesson for the football players.