Football Team's Sweet Gesture For Cheerleader With Cancer Goes Viral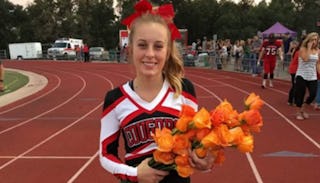 Image via Twitter
High school football players surprise a cheerleader with cancer in viral video
A California high school football team showered a cheerleader with support and gorgeous roses to show they were thinking of her in the wake of a recent cancer diagnosis. Video footage of the moment went viral spawning a Twitter hashtag and donations for the girl's treatment.
Foothill High School senior Ashley Adamietz was diagnosed with chronic myeloid leukemia last month and has been undergoing daily chemotherapy ever since. According to KRCR News 7, the school's football players organized a special entrance onto to the field for their game on September 2nd. Adamietz is a cheerleader for the team.
Senior player Ryan Caetano arranged for all 57 of his teammates to lay a single orange rose at her feet as they ran past the cheer-leading squad. There's a special significance to the flowers they chose — orange is the color representing leukemia awareness.
Caetano says, "She's part of the Cougar family, so why not let her know that we're all here for her? I wanted to let that be known to everybody, especially to her, for what she's going through."
The video has been viewed more than 35 million times resulting in an outpouring of support for Adameitz over social media. The hashtag #AshleyStrong was created and a funding page for donations toward her treatment has raised over $3,000 so far.
In a tweet from her private Twitter account obtained by ESPN Adameitz says, "I was shocked, overwhelmed and overall speechless. I can't thank you enough to both teams for making my first game one to remember and making me cry tears of joy."
The Foothill Cougars won their game that night, but the real news of the evening was these incredible kids showing support for their friend going through something no teen should have to deal with. September is Blood Cancer Awareness Month and also, Childhood Cancer Awareness Month. Hopefully, Adameitz's story going viral will inspire others to donate to the underfunded cause of childhood cancer research.
We wish Ashley the best in her ongoing treatment.
This article was originally published on