Photos Released Of A Devastated Puerto Rico -- Here's How You Can Help
by Christine Organ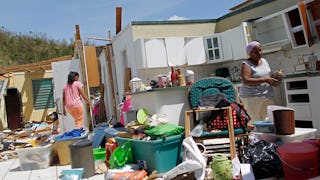 Image via RICARDO ARDUENGO/AFP/Getty Images
As Puerto Ricans face devastation, former Presidents unite to raise funds for hurricane victims
In an act of solidarity, unity, and true leadership, all five of the living former Presidents – both Republican and Democrat – have come together to raise funds for those impacted by the three hurricanes to hit the U.S. in the past month. First, Hurricane Harvey crushed Houston and the surrounding areas with record-setting floods. Next, Irma ravaged Florida, Puerto Rico, and the U.S. Virgin Islands. And just last week Hurricane Maria decimated Puerto Rico, as the island struggled to recover from the damage caused by Irma.
The fundraising campaign One America Appeal was launched by former U.S. presidents – Presidents Jimmy Carter, George H.W. Bush, Bill Clinton, George W. Bush and Barack Obama – earlier this month after Hurricane Harvey and has since been expanded to include those areas impacted by Irma and Maria to its relief efforts.
"Now individuals, foundations and institutions making tax deductible donations at OneAmericaAppeal.org may choose to assist all three recovery efforts from Hurricanes Harvey in Texas, Irma in Florida and Maria in Puerto Rico and the U.S. Virgin Islands — or to direct their donation to a specific recovery effort — using the drop-down menu in the website's donation section," the campaign said in a press release.
Given the extent of the devastation in Puerto Rico – which is a U.S. territory – the need for recovery relief can't be overstated. Today, The New York Times released the results of a poll which proved nearly half of all Americans don't know Puerto Ricans are fellow citizens.
"There is horror in the streets," San Juan's Mayor Carmen Yulín Cruz said in a recent interview. People don't have food, drinking water, or life-saving medications. The elderly and people who are sick can't get the medical treatment they need. And because most of San Juan is flooded, people are wading through contaminated water to get around.
And while it's all hands on deck for the five former Presidents who are working to get Puerto Rico the help it needs, the current President was noticeably silent on the situation in Puerto Rico until late Monday night. Even then, the response was, shall we say, less than compassionate.
As Yulín Cruz said in her heart-wrenching plea for assistance, "You see the best in people, but you also see the worst in people."
According to Vox, Puerto Rico is currently "in the grips of a serious, life-threatening crisis, with humanitarian aid getting in far more slowly than is needed." One of the greatest threats is the complete loss of power throughout most of the island, and the New York Times estimates that it could be four to six months before power is restored. Four to six months.
"Make no mistake — this is a humanitarian disaster involving 3.4 million U.S. citizens," Puerto Rico Governor Ricardo Rossello said in a statement released Monday. "We will need the full support of the U.S. government."
At least ten people have died from the storm so far, but experts predict it could reach hundreds within a matter of days and some fear that hysteria is starting to set in. The situation really is that desperate, and these people need all the help they can get.
"Do not forget us," San Juan's Mayor Carmen Yulín Cruz pleaded. "And do not let us feel alone."
Visit OneAmericaAppeal.org to donate.
You can also donate here:
This article was originally published on