Former Nurse Turned Fairy Godmother Makes Princess Wigs For Kids With Cancer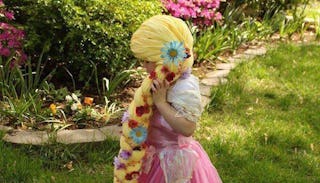 There's nothing easy about a cancer diagnosis, but a former oncology nurse is doing her part to help young patients get through their treatment with a little bit of magic.
Holly Christensen is a 31-year-old mom and former nurse whose friend's three-year-old was diagnosed with lymphoma last year. Knowing how traumatizing and scary treatment can be for young patients, Christensen decided to do something special to help the little girl maintain her sense of wonder and feel good during such a difficult time: she crocheted the toddler a gorgeous yarn Rapunzel wig.
Soon, others began reaching out to Christensen with requests for their own yarn wigs. From there, the Magic Yarn Project was born.
Christensen partnered with Bree Hitchcock, and together they started making wigs for dozens of little kids. The wigs are made of special "baby" yarn, which Christensen tells Yahoo Parenting is important because chemotherapy can sometimes make the scalp too sensitive for traditional wigs. Volunteers help crochet beanies, which act as a base for the hair. So far, 650 young cancer patients have received yarn wigs free of charge.
Here are some of their stunning creations:
The project has traditionally relied on volunteers and donations to create the wigs, but Christensen recently launched a GoFundMe to help turn the idea into an official nonprofit organization. As of this writing, they've raised $8,830 of the $20,000 they need.
As they write on their official website, there's "hardly a person today whose life has not been affected by cancer." According to the American Childhood Cancer Organization, approximately 43 children are diagnosed with cancer every day in the U.S. The survival rate for childhood cancers has improved to almost 90 percent, but that does little to diminish the physical, emotional, and financial impacts cancer can have on kids and their families.
We unfortunately don't have a way to prevent cancer yet, but we can do small things to brighten the lives of these kids and support them in their fight. The Magic Yarn Project is one of those things. It's a small gesture that helps kids feel loved and special and injects a little bit of magic into their lives at a time when they need it the most. It's comforting to know there are loving people in the world who come up with amazing ideas like this one.