Becoming A Court Appointed Special Advocate (CASA) Could Be A Lifeline For A Foster Child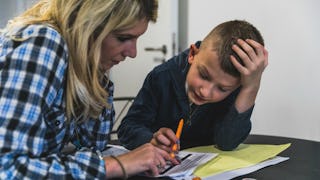 William Perugini / Getty Images
Meghan Walbert and her husband had always discussed adoption and becoming foster parents. While they knew they wanted to have biological children of their own, the pull to parent a child from the foster care system was strong for both of them. In 2014, just after their son turned 4, the Walberts started their foster parent journey and were licensed in 2015. "It felt like the right time," Meghan tells Scary Mommy. "I went from working full-time to staying home with our son, and that transition gave me more time and energy to put towards fostering."
Since becoming licensed, the Walberts have fostered a 3-year-old and a 9-year-old boy. Though Meghan has detailed her journey as a foster mother in her freelance writing, she prefers to keep the identifying details of their fostering experience private in deference to the boys they welcomed into their home, there is one aspect of the foster care system about which she feels deeply passionate.
She feels strongly that Court Appointed Special Advocates (CASAs), also known as Guardian Ad Litems (GAL), are a vital part of the foster care process.
A CASA is a volunteer who is appointed by a judge to watch over and advocate for abused and neglected children. According to the CASA website, advocates are desperately needed "to make sure children don't get lost in the overburdened legal and social service system or languish in inappropriate group or foster homes." Each volunteer receives specialized training to learn how to navigate the foster care system and how to help a child who has been on the emotional roller coaster of foster care.
A CASA volunteer commits to being with a foster child from the time he or she enters the foster care system until they are either reunified with their birth parents or adopted. And the duration is different for every child. Some CASA assignments are lengthy, lasting several months to years and others are of a much shorter duration.
Often, the CASA is the one constant face that a foster child sees regularly.
According to Walbert, there is a high rate of turnover in adults whom foster care children encounter while in the system. Social workers with high burnout rates, a wide range of available foster homes, and trips to the courthouse mean that foster children see a myriad of adults while being fostered.
"A CASA's face doesn't change," stresses Walbert. "The child might get moved to a new home but they are comforted knowing that their CASA will come see them soon."
And that friendly, familiar face can be a lifeline for a scared, bewildered foster child.
"Becoming a CASA is a perfect way to get involved and to be able to make a profound difference in one child's life," says Walbert.
A CASA/GAL volunteer becomes a much-needed voice for a foster child and works with the social worker, birth parents, and foster parents to truly advocate for the child's needs. Through regular meetings with their assigned foster child and appearances at permanency hearings, the CASA helps determine what's truly in the best interest of the child. And the CASA can objectively report to the judge assigned to the case what they observe between the child, the birth and foster parents, and social worker.
CASAs can advocate for social services and can assist the social worker in coordinating care for a foster child. And statistics show that foster children with CASAs perform better in the school setting because their advocate can work closely with the school staff to ensure the child is meeting educational goals.
"The CASA is the one person standing up for the child and a small time commitment can make a huge difference," Walbert tells Scary Mommy.
And research supports the necessity of qualified, dedicated CASA volunteers.
Children with a CASA or GAL volunteer are "more likely to find a safe, permanent home, more likely to be adopted and substantially less likely to spend time in long-term foster care. Children are half as likely to reenter foster care with the aid of a CASA and are more likely to have a plan for permanency, especially children of color."
Currently, there are less than 86,000 CASA and GAL volunteers serving the more than 400,000 children in the United States foster care system. Because the number of children being helped by the foster care system far outnumbers the available CASAs, often, a judge is forced to assign available CASAs to the more complicated, high-risk foster care cases.
This means there's a desperate need for caring, good-hearted people to volunteer to become CASAs in their communities. The requirements vary from county to county and state to state (49 states have a CASA system in place to assist foster care children). While CASA programs are funded in part by the federal government Office of Juvenile Justice and Delinquency Prevention (OJJDP), many programs rely heavily on private donors for their funding.
And while there are many worthy programs aimed at assisting foster care children, like Together We Rise and One Simple Wish, the CASA program is perhaps the most vital for foster children and their long-term well-being.
"It's a chance to be personally involved in a child's life, and it can be meaningful for not only the child but the volunteer. CASAs have a special place in my heart," says Walbert.
Ours, too, Meghan.
If you are interested in learning more about becoming a Court Appointed Special Advocate, please click here to find a program in your area.
This article was originally published on