Foster Mom's Viral Post Shows The Heartbreak Children Face Every Day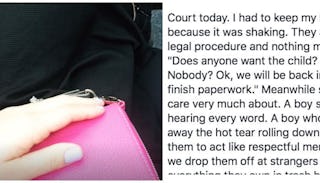 Image via Foster Your Heart Out/Facebook
A Facebook post is going viral for showing the desperate situations foster children face as they endure a process that "would shake any adult"
Last week foster mom Sarah shared a post on her Facebook page Foster Your Heart Out that is going viral for drawing attention to the heartbreak that many foster children face and the desperate need for compassion, support, and involvement. The post struck a chord with many of us, and in just a few days it has more than 42,000 shares and 6 million views.
"Court today," she began the post. "I had to keep my hand on something because it was shaking. They all spoke like it was a legal procedure and nothing more. No compassion. 'Does anyone want the child? Are you sure? Nobody? Ok, we will be back in a few weeks and finish paperwork.'"
"Meanwhile said 'child' is a boy I care very much about," she continued in the post. "A boy sitting next to me hearing every word. A boy who is trying to wipe away the hot tear rolling down his cheek."
Sarah — foster parent to a 13-year-old son and biological mom to a two-year old and a three-year-old — went on to write about the indifference and unrealistic expectations our society has for foster children.
"We ask them to act like respectful members of society. But we drop them off at strangers' homes with everything they own in trash bags and then have them sit through court hearing that would shake any adult. Then we drop them off at school to handle these emotions. And shake our heads when they are expelled again. We tell them to stay out of trouble and label them as bad kids for outbursts of anger and frustration."
Her post highlighted the desperate need for foster parents, as well as the support and compassion of everyone else.
"Why are our juvenile jails full? Because our custody court rooms are empty," Sarah concluded her post.
She and her husband became aware of the overwhelming need when they began researching adopting and foster-to-adoption options. "Once you see that need you can't unseen it," she told Scary Mommy. "You see the faces and hear the voices of children in your town needing safety and stability and love. And it starts consuming your thoughts."
According to the Child Welfare Information Gateway, which is part of the U.S. Department of Health and Human Services, there were an estimated 427,910 children living in foster care as of September 30, 2015, nearly half of whom were living with nonrelative foster family homes. The average age of a child entering the foster system in 2015 was 6 years old. Most foster children are in care for a period of one month to two years.
The process for becoming a foster parent varies by state, but it typically involves interviews, background checks, training, multiple home visits, and possibly medical or psychological exams. Sarah told us that one of the most challenging parts of the process was getting their home licensed. The other biggest challenge? Fighting to help a teenager accept love, though it won't stop her from loving him, she said.
Even though fostering is hard and you might feel broken when a child leaves, she said it's worth it to know that you made a difference to the child simply by loving them. After all, "these kids need love more than you need to protect your heart."
Although becoming a foster parent is, obviously, one of the most impactful ways someone can help a foster child, if fostering isn't an option for you, there are lots of other ways to help. For instance, Adoption.com suggests that you can become licensed as a respite care provider to offer short-term breaks for foster parents. Volunteering for organizations like Big Brothers Big Sisters and the Boys and Girls Club can also have a significant difference in the life of a foster child.
Donations of time, money, and goods to local foster care organizations also help make a difference. Find out who the foster families in your town are, Sarah recommended. "Drop off dinner, bring over a case of granola bars, drop of a case of toilet paper, baby wipes and paper towels because you know a mama never has too much of any of that."
She also suggested things like sponsoring a foster child to go to a summer camp or donating gift cards to the foster care offices to give to children as birthday gifts.
In whatever way you help — whether as a foster parent, a mentor to a foster child, or supporting a foster family — the time to act is now.
"These kids need you," Sarah reminded us. "They need your small, messy house. They need your busy life and your fruit snacks. They need to hear your terrible singing voice in the car. They need to see you right where you are."