Four Moms Who Are Kicking A** In The Olympics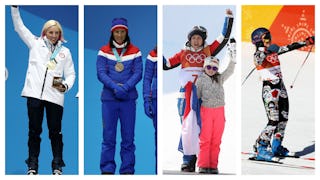 Clive Rose / Getty David Ramos Marit / Getty Ian MacNicol / Getty Ezra Shaw / Getty
Being an Olympian is hard. Being a mom is arguably even harder. But to be both? That's a badass category all on its own and, not surprisingly, a pretty exclusive party. I can't imagine training for hours every day and having the energy left over to convince a toddler that the grocery store is not clothing-optional. I barely have enough stamina to survive bedtime each night, and these women are raising kids and proving that moms can be at the top of their sport as well.
The United States has only one mother on our Olympic team this year, as opposed to the ten moms who competed at 2016's Summer Olympics in Rio de Janeiro. But Kikkan Randall, along with three other moms from around the world, are all making names for themselves in their individual sports this year.
Here are the four moms who everyone is talking about in this year's Winter Olympics.
1. Kikkan Randall — United States Cross Country Skiing
Let's start with our very own Kikkan Randall, who pretty much kicked ass this year when she won a gold medal in cross country skiing. But even before that incredible moment, she was proving that moms can pretty much do anything they want. She has won 17 U.S. National titles, 17 U.S. Championships, and gone to the Winter Olympic games five times. And she is raising a toddler son — which might be as challenging as all of the above from what I remember.
2. Marit Bjoergen — Norway Cross Country Skiing
Marit Bjoergen has racked up four medals in PyeongChang, a gold, a silver and 2 bronze — which takes her up to fourteen Olympic medals that she's won in her lifetime. This makes her THE MOST DECORATED WINTER OLYMPIAN EVER. Proving that moms do actually rule the world. Her accolades in skiing are so vast that I can't possibly list them all. You can visit her Wikipedia page if you'd like to know more. But probably most importantly, she is raising a son who was born in 2015, putting him at about the age where it takes at least half a day to get him into snow pants. I really have no idea where she finds the time to train to be an elite athlete and put her toddler in snow pants.
3.Marie Martinod — France Freestyle Ski
Marie Martinod has won two silver medals in her Olympic career, both in freestyle ski. She also won a gold medal and two bronze medals in previous Winter X games. She was only the second mother ever to win gold at the X games. She has an eight-year-old daughter, Mélirose Roy, who is pretty dang cute posing with her mom in photos at the Olympic games…with her stuffy. That would be something my daughter would do. Mom rocks, but look at this new stuffed animal I got! Marie plans to retire after the 2018 Winter games.
4. Sarah Schleper — Mexico
Sarah Schleper has duel citizenship with the United States and Mexico and represented Mexico in the 2018 Winter games. She has also competed in the Olympic games five times because, I guess raising two children isn't hard enough. She came in 39th in giant slalom but she states she skied "cautiously" to make it to the finish. Two kids! Five Olympics!
That's it. Moms rule. And, really, I don't think I have any more excuses to miss spin class.