4-Year-Old Calls Out Woman's Bad Barefoot Plane Etiquette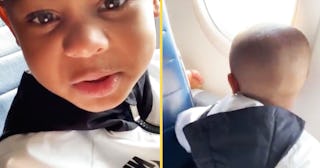 Rodney Small/Instagram
Like snakes, stinky bare feet have no place on a plane — especially in someone else's face!
We have all been there. Sitting on a plane next to, in front of or behind some totally disrespectful and oblivious member of the human species who just doesn't get the concept of in-air boundaries. Whether it involves your neighbor unwrapping a fish sandwich somewhere over the middle of the country, playing their music sans headphones or making any physical contact with you at all, it can make an already uncomfortable experience literal hell. While airplane etiquette should be posted boldly on every tray table, it isn't, and that's a serious shame.
While many of us are too timid to have it out with these in-flight sinners and opt to suffer in silence, leave it to a 4-year-old to call a spade a spade. Houston kiddo Rodney Small was on his first flight to Orlando, Florida to visit Disney World, when he experienced his first major in-air boundary violation — someone else's stinky feet on his armrest — which for whatever reason, seems to happen more often than we would like. Luckily for the entire world, the whole episode was caught on camera and has gone viral — for very good reason.
The hilarious video was filmed by the boy's dad, who was hoping to catch his son's reaction to his first ever takeoff. But instead of expressing squeals of excitement or shrieks of fear, all we see is the look of horror, as Rodney was totally distracted by the disturbing image of bare feet protruding into his space. They happened to be attached to a sleeping woman in the seat behind him, and he was not having it. His dad tells Scary Mommy that his little boy was "shocked" that the stranger had her feet on his arm rest — and we can't blame him!
"I have stinky feet behind me," the little boy exclaims in reaction to the cringe-worthy image. He then proceeds to yell at the sleeping woman, "Why somebody have their feet behind me!?" You get her, kid.
"As a child he knew that putting your foot in someone else's space was not kind at all," his dad tells us. "Although we don't believe the lady intended to invade his space he reacted the way anyone else would react. Sometimes adults hold back with confronting others to keep the peace but as a child, he voiced his concerns and his facial expressions and reaction made it hilarious."
While the video cuts out before we learn how the whole thing plays out, according to Mr. Small Rodney's shaming tactics worked spectacularly. "The lady quickly moved her foot and apologized to him," he revealed. He added that as a parent he was "not offended at all" and found the whole thing "humorous." As did we, obviously.
Rodney's hilarious disgust even caught the attention of local news outlets who want to hear more from the adorably outspoken little guy.
We applaud Rodney for his candidness in this awkward situation, and hope we can be as bold the next time we are faced with a similar horror. You inspire us kid!
For more of Rodney's adventures and adorable antics, you can follow him @justrodneyoneal.
This article was originally published on