Four Year Old Fashion Designer Strikes Deal With J.Crew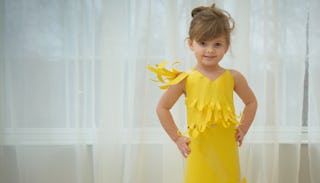 You've probably heard of Fashion by Mayhem by now.
You know, the adorable little four year old who creates wearable art out of paper and tape?
Her mom started documenting the magic on Instagram last year.
Not surprisingly, their following instantly blew up.
Mayhem has been been featured in Vogue, taken part in New York's Fashion Week and has caught the attention of celebrities and influencers all over the world.
And, now, she's landed a deal with J.Crew to design a collection for their summer line.
Which really begs the question…
What has your four year old done lately?
All photos via Fashion by Mayhem
This article was originally published on