This Weatherman Totally Fed Up With Winter Is All Of Us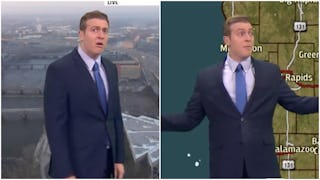 Image via Fox 17
This winter has been brutal, none more so than for weatherman Garry Frank
If you live in pretty much anywhere in America, you're likely sitting in your parka freezing your tits off cursing Mother Nature for the seemingly endless winter we've had. At this point, it feels like we're gonna just skip right over spring and eventually (hopefully) thaw out sometime mid-July, right about the time stores start putting Christmas decorations out. One Michigan weatherman is feeling it just like the rest of us, only he gets the brunt of most people's anger — and he's had it.
Fox 17 weather reporter, Garry Frank, was giving his usual weather report on Tuesday and got a wee bit agitated when his coworkers sighed at his forecast after he tried looking on the bright side, saying, "It could be worse."
Frank snapped back, "You guys are dragging me down. Every time I get done with the seven-day forecast, you guys are like, 'GAHHHHH, UGHHHHH, AHHHHHH,'" he snaps. And because he's the early morning weatherman, he comes on at 4:30am, 5:30am, 6:30am and apparently gets the same reaction every single time. Did we mention he's had it?
"Then you expect me to be chipper for five straight hours," he continues, mid-meltdown. "It's miserable."
According to the Fox 17 website, this poor dude came to Western Michigan from Yuma, Arizona of all places so no wonder he's completely over it like the rest of us. But being a weatherman means he gets also gets blamed for the fact that we're all suffering.
"What do you want me to do, lie to you? I'll put 70 every day next time," he says, flailing his arms all over the place. Well Garry, we need to blame someone for this endless winter hellscape.
The South dealt with the wrath of Winter Storm Benji, which traveled up the East Coast dropping temperatures and dumping snow. Then most of the country dealt with a record-cold December and January. And lest we forget the bomb cyclone that hit the East Coast, Winter Storm Grayson, more record-setting snowfall all over the map, and four nor'easters in less than three weeks. Now, it's mid-April and the Midwest is bracing for another foot of snow again this weekend. For fuck's sake. It's too much.
Frank continues with his forecast, pointing to Thursday's temperature. "Here's a 60, not sure if that's good enough for you guys," he says, completely exasperated. "Maybe I'll disappoint you with the seven-day here in a few minutes."
Hang in there, buddy. Winter's gotta end sometime soon, right? Right?!?
This article was originally published on