Fran Drescher Proves She Doesn't Age In Iconic Look From 'The Nanny'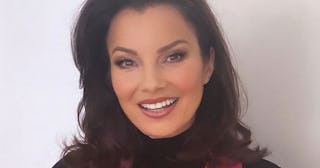 Fran Drescher/Instagram
Fran Drescher has got style, she's got flair — and she's so much more than just there
Fran Drescher is having one heck of a year. The sitcom star/icon has been back in the public eye since HBO started streaming all seasons of the show that rocketed her to stardom, The Nanny. If you haven't binge watched it yet, I do not know what you're doing with your time. Please get on that right away. And in the meantime, back to Fran, who's out here on Instagram proving that she's still the flashy girl from Flushing.
For a recent photo shoot, Drescher went deep into her closet until she found a certain Moschino vest that might look familiar — because it's the same one she wore in promo photos for the very first season of The Nanny. It's also one of her most iconic looks from the show, which is saying something, since there were hundreds of iconic looks. And wouldn't you know it? It still fits her like a glove, because of course it does.
In case you need to jog your memory a little about where you recognize that look from.
Drescher starred in The Nanny from 1993 to 1999, during which time her incredibly fashion-forward outfits made her a household name — along with her hilarious acting and charm onscreen. The show followed her as a cosmetics sales girl who accidentally became the nanny for a wealthy New York family after the death of the children's mother… and how her romance with the family's patriarch, Mr. Sheffield, burned excruciatingly slowly for six entire seasons.
Just look at her. LOOK AT HER.
And in case you need to feel 100 years old, Drescher first put on that vest… wait for it… 28 years ago. How does she look exactly the same? These photos are definitive proof that the woman does not age.
Drescher took the photos to promote her upcoming Fran Jam Music Festival, which is set to stream online on June 20th. The music festival is designed to raise money for Drescher's charity, Cancer Schmancer. We still don't know much about the festival, other than that Katherine McPhee and David Foster are likely to perform, but we already know it's for a good cause.
And if Fran Fine herself will be making any sort of appearance (especially if she puts on some more iconic fits to do it), you know we'll be tuned in for that and that alone.