More Than 2500 People Gather For Illegal Rave In France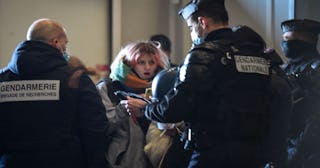 JEAN-FRANCOIS MONIER/ Getty Images
The country is under strict curfew as coronavirus cases soar
As the pandemic rages on throughout the world, nearly 2500 people in France gathered for an illegal warehouse rave that began on New Year's Eve in defiance of coronavirus measures put in place in many areas of the country.
A new curfew went into effect at 6pm on Saturday in 15 French departments to combat the spread of the coronavirus, the government said Friday. Previously, the curfew had been 8pm. Apparently upset by this, attendees planned the rave, which included people from other hard-hit countries like the UK and Spain, the BBC reported.
The attendees clashed with police when they arrived to shut down the event, setting fire to a car and hurling objects at officers who tried to enter. At least three officers were injured. A driver was also apprehended with turntables, speakers, and a generator in his trunk, according to French TV station BFM TV. In total, more than 1,200 fines were issued for non-compliance with the curfew, not wearing a mask, and attending an illegal event.
"Obviously if the situation were to deteriorate further in some regions, we would take the necessary decisions. The measures are incremental and can, of course, go as far as a lockdown," government spokesman Gabriel Attal told TF1 television. of the decision to change the curfew to 6pm.
France has already had two full national lockdowns, the first from March 17 to May 11. Initially, the country saw an improvement in its numbers but shortly after, cases began to rise, prompting a second lockdown that began on October 30. This was replaced by an 8pm curfew in mid-December. Restaurants and bars are still closed for now.
One partygoer came with four friends, told the newspaper Lemonde that she had wanted to "escape" for a few hours.
France has recorded more than 2.6 million coronavirus cases and nearly 65,000 deaths since the pandemic began. The country has the highest COVID-19 cases count in Western Europe and the fifth in the world.
Prosecutors in Rennes have opened a case into the illegal rave and violence against police, and local health authorities urged party-goers to self-isolate for seven days. I'm thinking these folks might not follow through on that, but what do I know. Interior Minister Gerald Darmanin said that 132,000 police had to be deployed across France for the New Year celebrations to ensure the curfew was being met and people didn't meet in large groups.
The longer people act selfishly for their own benefit, the longer there will be shutdowns, continued positive cases, and preventable deaths.