Reality Star Who Shared Struggle To Conceive Now Expecting Twins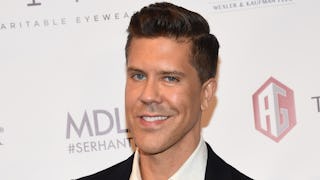 Image via Dimitrios Kambouris/Getty Images
The happy news comes after he and his husband experienced multiple pregnancy losses
On the season finale of his show "Million Dollar Listing New York," reality star and real estate agent Fredrik Eklund and husband Derek Kaplan shared that they're expecting twins this fall via surrogate. The happy news comes with a lot of emotions as the couple lost a set of twins in 2015.
Eklund tells People that he and Kaplan are totally overjoyed as they anticipate the arrival of their babies. "It's the biggest thing that could ever happen to us. It's a boy and a girl, and it's just beyond." He tells The Daily Dish that their names are Milla and Freddie Jr.
In an Instagram post last night announcing their impending additions, Eklund wrote, "We've been blessed two times over – we're six months pregnant with twins, a boy and a girl!"
He also explains to fans the delay in sharing the news of their expanding family. "It was important for us to take the time to keep the news for ourselves, but now we are ready to celebrate all the love. We thank you for supporting us in this journey and your well wishes…. We are finally going to be dads! Finally!"
Eklund says they found out about their twins in April, on his 40th birthday. "That was probably the biggest moment of my life," he says. "I felt like it was meant to be, which is hard for me to say because it's been so difficult."
And it's that difficulty that likely made the couple want to keep the news to themselves for awhile. After going through a pregnancy loss, subsequent pregnancies can be full of anxiety for a parent. Telling others about it means contemplating telling them if they experience another pregnancy loss also. That thought can be daunting, for sure.
Their surrogate has suffered several miscarriages, including the twins Eklund wrote about losing in a heartbreaking blog post last year. The pain of not being able to build the family he and Kaplan were dreaming of was compounded by the news of other people's little ones. "It felt like every time I went onto Facebook or Instagram, all that I could see were these smiling babies on my feed," he says. "I was reminded constantly that there was this gap between me and where I wanted to be."
Eklund admits that there was some regret with being so open about the loss of their twins last year, but there's a silver lining too. "A lot of people were sharing their experiences, and they just said, 'You've got to continue. Do not give up. It is going to happen,'" he says.
Telling others about a pregnancy loss is the exact double-edged sword Eklund alludes to. Having support and the ability to let out your feelings can be healing, but sometimes, you simply don't want to talk about it. And once it's out there, it's out there. It makes Eklund's choice to share his heartbreak all the more brave and commendable, especially since he's helping others grieve their own losses in the process.
Although it's been a long road filled with plenty of difficult moments, Eklund and his husband are focused on the future and the birth of their son and daughter in just a few months. He says, "I feel so much gratitude that this is happening. I feel so much love for them."
This article was originally published on