This Cruise Line Is Giving Away Free Trips To Teachers
by Christina Marfice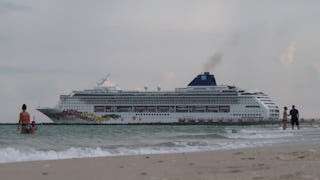 Image via Gary Hershorn/Getty Images
If anyone deserves this vacation, it's teachers
Teachers are some of the hardest workers on the planet. They spend day in and day out not only teaching other people's kids, but mentoring them, protecting them and shaping them into the productive adults they hope to become one day. It's a big job, and teachers do it passionately, joyfully and for shockingly little pay. Someone get them a vacation, stat!
Norwegian Cruise Line is doing just that. The company just announced a contest that will award all-expense-paid, 7-day cruises to 15 teachers from the U.S. and Canada. The prize will include roundtrip airfare and a hotel for an awards ceremony in Seattle where they'll have a chance to win an even bigger grand prize. Does your teacher deserve a free vacation after this school year? All you have to do is head to Norwegian Cruise Line's website and nominate 'em.
Norwegian is specifically looking for educators who are "spreading the joy of learning," and nominating yours requires writing a short essay about your reasons for nominating him or her. People will be able to vote online to narrow the finalists down to 30, and a panel of judges will take it from there, choosing 15 winners to attend an awards ceremony in Seattle. Every winner will get vouchers for themselves and a guest to go on the 7-day Norwegian Cruise Line cruise of their choice. And at the awards ceremony, one grand prize winner will be presented with a $15,000 donation to his or her school, in addition to all the other prizes.
"Travel is a powerful means of education. It brings people closer to each other and to diverse cultures around the world," Norwegian Cruise Line CEO Andy Stuart said in a statement. "Through our Norwegian Cruise Line Giving Joy campaign, we celebrate the power of education and travel, and reward teachers who have taken responsibility for our future, our children, and who lean into that responsibility with all they've got."
Parents and students can nominate their favorite teachers, or educators can nominate themselves, because they know they need and deserve a vacation this summer. The awards ceremony will take place on May 6, which also happens to be the first day of Teacher Appreciation Week. That means you only have until April 12 to nominate your favorite teachers, so there will be time for public voting and the judges to decide the winners.
In case there's any doubt in your mind that a teacher in your life deserves this kind of treatment, let us present some evidence. Remember the teacher in Pennsylvania who transformed her classroom into Hogwarts for her kiddos? Or the veteran teacher who started a program to encourage his kids to perform random acts of kindness for one another? How about the teacher who planned a special party for a kid with food allergies so he could eat all the same treats as his classmates?
Teachers go above and beyond, and likely, there's one (or more) in your life who has, too. Now it's just up to you to nominate them for the recognition (and hard-earned break) that they deserve.