Chipotle Is Giving Teachers Free Burritos And No One Deserves It More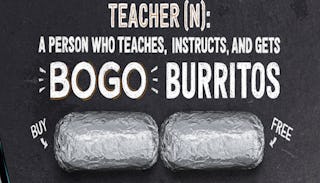 Image via Chipotle
Teacher Appreciation Day is Tuesday, May 8 and you better be hungry
If ever there were a day that needs celebrating longer than just one, it would be Teacher Appreciation Day. This year, the big day is on Tuesday, May 8th, and to celebrate the occasion, Chipotle has decided to give away free chow to teachers everywhere. And let's be honest, nothing says "thanks for putting up with our kids all day" like a giant burrito.
According to their website, teachers can take advantage of a buy-one-get-one free deal this Tuesday from 3pm to close. All you need is your faculty school ID and you can choose from "a free burrito, bowl, salad, or order of tacos with the purchase of any one of the entrees."
What's even better is it's not just teachers, but everyone who makes our schools run smoothly all year round. And never has the phrase "it takes a village" applied more than to everyone involved in our school systems. Their announcement continued, "Teachers, faculty, and staff: while you fill minds with knowledge, we'll fill your stomachs with burritos." And what better than free food to show how much we love them?
Teachers and faculty commit their lives to making our children better, more educated human beings. They put up with a lot of shit from a lot of different personalities, learning styles, and parents for very little pay because they love our kids. They show up every single day with little appreciation for just how hard of a job they have. And they smile (sometimes through gritted teeth, I'm sure) while they do it. Teachers are the best, and they deserve this. Not just on Teacher Appreciation Day, but every day.
If giant burritos aren't your thing, select Chick-fil-A locations are also honoring teachers from 10:30am until 10pm with free chicken sandwiches. And let me tell you, there's nothing better than a Chick-fil-A sandwich. Nothing. Just be sure to call ahead to your local store to see if they're participating, and bring a valid faculty I.D.
Make sure to check out some of the other restaurants participating because teachers deserve all of the free food. After you get home and stuff your face, kick back with a nice glass of wine, turn on your favorite show, and do nothing. Because before you know it, the alarm will be going off and you'll be back with all our little angels yet again.
This article was originally published on