200 Universities Are Offering 500+ Free (Or Mostly Free) Online Courses For You To Take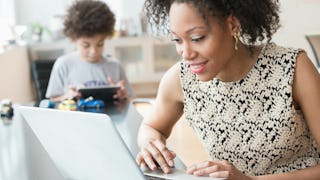 Jose Luis Pelaez Inc / Getty
You're never too old to expand your skills, but you can be too poor.
Well, if you fall into the latter category (and many of us do) then there's a new program that can help. There are 200 universities around the world who are offering over 560 classes online. And they're free or mostly free.
So now those of us who want to expand our knowledge or are hungry to learn a new skill have a chance to do so for free and without having to set foot in a classroom. Yep, that's right — you can get your learn on without going broke or putting on real pants.
All the classes are offered through the site Coursera, which offers classes in 10 major categories from universities like Harvard, MIT, and Stanford. The courses, which allow you to study at your own pace (huge bonus), are led by some of the best educators in the world. It is an interactive learning experience, just like a classroom setting would be; there are video lectures, peer-reviewed assignments, and community discussion forums. There is even an app for iOS and Android, so you can listen to your lessons during your morning commute or while you're waiting for your kid to fall asleep. Upon completion, there is an electronic certificate. Classes take about four to six weeks.
Though approximately 560 classes have been added this year alone, Coursera offers over 2,000 courses and 180-plus specializations or specialized classes.
Some popular classes include courses on Bitcoin and programming, and there's even one named "Learning How to Learn." Some other popular courses come from subjects like data science, business, social science, and computer science.
But those are just a small taste of what the options are. You can even study veterinary science, philosophy, or even learn how to speak Mandarin or Spanish.
I'm serious, this is really freaking cool.
The Personal Development section may be of particular interest, since it has broad appeal. There is a class called Everyday Parenting, created by Yale University, geared toward caregivers and parents of children from toddlerhood to adolescence. There are also classes on photography, music, writing, and art at a beginner level. There is a class that teaches young adults about financial planning, which is a skill that is absolutely imperative, but so often overlooked.
Because you have the ability to take most of these classes at your own pace and many of them are free, it's time to spread the word. It is like the best of college, but you're not going to be in debt until you have great-grandchildren. There really is no magical time in your life where it isn't beneficial to learn new skills, whether you have a college degree or not.
If you want it, go for it. For a full list of classes, go here.