This Organization Provides Free Photography Services For Families Affected By Pediatric Illness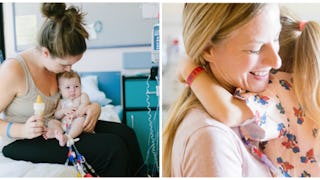 THE MARK MAKERS
Every parent wants to freeze their child's childhood. On the good days, and even on the bad ones, we are constantly behind a lens, attempting to capture tiny smiles and pouty-faced frowns. And for parents raising a child with a pediatric illness, this is no different.
Alissa McDonald, founder of The Mark Makers, is working to provide no-cost photography for families affected by the trials and triumphs of pediatric illness. McDonald's vision was inspired by her own daughter who suffers from Severe Combined Deficiency Disorder.
Like The Boy In The Bubble, McDonald's family has spent countless hours in isolation due to her daughter's condition. But when a friend offered to photograph these bittersweet trials and tribulations for her family, she happily accepted. And it's because of those photos that she's inspired to reciprocate that same token of love toward other families.
However heart-breaking and beautiful it is to imagine, The Mark Makers captures someone's very real, very personal life. These pictures hold tears. They hold smiles. They hold the good news and the bad. But most importantly, these photographs hold someone's once-in-a-lifetime childhood.
One of the family's touched by The Mark Makers had this to say: "I have to admit, these are not only the most unplanned pictures, but they are also the most emotional pictures. Because they are part of our story. A story of fear, hope, faith and strength."
Those same emotions inspired McDonald to push forward and give families something raw and real to cherish. The founder knows first-hand that pediatric illness doesn't just happen to the patient. It happens to the entire family.
So when a cancer patient's mother desired a cake smash out of her youngest son's birthday, The Mark Makers made it happen.
McDonalld tells Scary Mommy, "His mom had always dreamed of a cake smash shoot. She didn't think it'd be possible since they were inpatient. But we made it happen by draping hospital sheets and decorations from the walls. That was a really great thing to be able to do for them and a really fun day."
On this day, a little bit of magic was brought to this family.
But most of the photography captured is not always happy times like these. McDonald said in a recent blog post, "Everything that I shoot is heavy and I get that. I don't do family sessions in flower fields with coordinated outfits; I document pediatric illness."
Through her website, social media, and the Make-A-Wish Foundation, McDonald is able to thoroughly depict the life of families consumed by pediatric illness. She tells Scary Mommy, "My favorite photos of my own situation are the images where I look disheveled and broken. Holding my daughter who's covered in cords or leaning over her bedside while intubated and surrounded by teams of doctors…THAT is our reality and there is so much love present, it is incredible to have those moments documented."
"Every time I get a request to shoot, I swipe my credit card for the gas money to get me there with the faith that this work matters more than not acquiring more personal debt. I walk into the hospital inhaling the will to be of service to those families and exhaling the hope that my faith will serve me," McDonald stated.
To fund this nonprofit organization, The Mark Makers relies on the contributions of others. If you'd like to make a donation to the documentation of pediatric illness for families, it can be done through their website.
The Mark Makers had this to say to their contributors, "You have made an immeasurable impact on my life and now collectively we will spread that impact to the hoards of other families affected by pediatric illness. So much gratitude…thank you, thank you, thank you."
This article was originally published on