16 Websites Offering Free Printables To Keep Kids Busy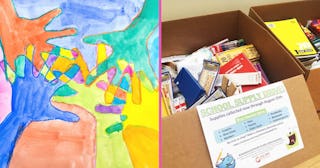 Artful Parent/Curriculum Associates/Instagram
With schools canceled in an effort to slow the spread of COVID-19, the kids are home. And maybe bored. And maybe on the verge of turning feral. (Or is that just mine?)
A few weeks of managing our children's boredom is the very, very least we can do to help those on the frontlines fighting this disease, which is why I don't want to complain. I am grateful for my health and my children's health. But, we can be grateful for our health, for the fact that we have healthy kids at home, and also want just five minutes of silence to check social media in peace.
Which is why we've compiled this handy list of websites that offer printables that can maybe help in the never-ending quest to keep the kids busy.
Free printables from a tried and true favorite for all ages that cover subjects like reading, writing, math, and science.
https://www.instagram.com/p/B92jcsyg-1d/?utm_source=ig_web_copy_link
Sign up for the free printables on this website that has worksheets on everything from grammar to geography, history, science, animals, and even the human body.
Over 300,000 pages of free worksheets for toddlers through teens that cover everything from alphabet letters, math, language arts, history, geography, and more.
A great resource with thousands of activities including kids crafts, worksheets, coloring pages, printable mazes, dot to dot, hidden pictures, and more.
These K-8 Reading and Math printable at-home activity packs are perfect for extended absences from school and are designed for self-directed exercise and practice. Bonus: the printables are available in English and Spanish.
These learn how to read printables were created by a mom and use printable board games, activities, and more for phonics and reading.
With the option to download one of their phonics worksheets for kids or make your own worksheet, this is a great resource for the beginning reader.
Free mazes from the mind of a Walt Disney Imagineer that range from easy to hard.
A homeschool resource with fun printables for pre-K through high school, which includes printables about outer space, math, and writing research papers.
Join this website to access thousands of printables, easily separated by grade and subject.
Fun and educational printables including mazes, paper dolls, hidden pictures, connect the dots, and color by numbers.
Here you can find literacy printables, math printables, and science printables for preschool, kindergarten and early elementary.
https://www.instagram.com/p/BXB8iH5l-me/?utm_source=ig_web_copy_link
Reading and math worksheets for elementary school kids through grade 5—including a worksheet on cursive handwriting.
A resource for parents of autistic and neurodivergent children, this website offers fun printables from I Spy to exploring outer space.
Fun, easy to print coloring pages for the whole family—kids and adults.
Printable art activities for kids (like make your own paper doll) that encourage creativity and help build art skills.
https://www.instagram.com/p/B9zTTQdhbfl/
This article was originally published on