Sex Trafficking Victims Are Being Prosecuted For Prostitution, And It's Horrifying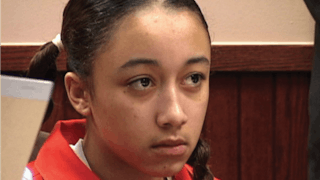 World Documentaries / YouTube
In the past few days, you've seen the hashtag #FreeCyntoiaBrown tweeted by celebrities such as Kim Kardashian, Rihanna, Cara Delevingne, Snoop Dogg, and other journalists and activists — including Dan Birman, who made a 2011 PBS documentary about the case. All the attention toward #MeToo and sexual harassment has finally turned to the hardest of hard issues: sex trafficking of minor children. And not only sex trafficking, but the often-subsequent, un-fucking-conscionable incarceration of its victims.
Cyntoia grew up in an abusive home, according to CNN. She suffers from fetal alcohol syndrome, a condition which renders her likely to engage in rash decisions and often makes it hard, if not impossible, to see the potential consequences of your actions. She ran away from her adoptive parents' home and was living in Nashville when she met a man named "Kut Throat," who according to a court petition, "eventually began physically and sexually abusing her and then forced her into prostitution." She was 16 years old.
Johnny Mitchell Allan, 43 years old, picked up the teen at a local Sonic and took her back to his house for sex. She saw a gun cabinet. She kept resisting until she saw him "reach under the bed," and that's when she thought she was about to get shot. According to NPR, Cyntoia says she was terrified that he was going to kill her for her noncompliance. That's when she got the guts to, as CNN says, "take a gun out of [her] purse" and shoot his molesting, soliciting ass. Still just 16 years old, folks.
That's not how the law saw it. Because, as CNN points out, she took his wallet afterwards — the prosecution argued her motivation was robbery, plain and simple. She was tried as an adult in the state of Tennessee, which rejected her claims of self-defense, despite the fact that she was a child forced into prostitution, who feared for her own life, and who couldn't really engage in adequate decision-making. She was convicted for "first degree murder, first degree felony murder, and aggravated robbery." Her sentence, at age 16, "carried concurrent life sentences and an additional eight years."
A life sentence. For a sex-trafficked teenager. Who shot a child predator trying to force sex upon her.
But fear not, her case will be reviewed — 51 years after it was handed down, according to NPR. She will be eligible for parole when she is 69 years old.
This isn't an isolated case. In 2014–15, the last years for which we have data, 600 juveniles were arrested in America for "prostitution or related vice," reports the U.S. Department of Justice's Office of Juvenile Justice and Delinquency Prevention. That means that 600 kids, none of whom made an informed or logical choice, a choice unpressured by economics or abuse, now have arrest records for a sex crime.
Way to go, America.
Here's another Cyntoia: According to the Polaris Project, a group that works to end sex trafficking, Keisha (not her real name), was a foster child in Florida who was being sexually abused by a member of her foster family. At 14, she ran away to escape it and met "Mastur D," a 26-year-old who promised to help her get back to her biological family — if she could help pay their way by having "commercial sex." He beat her.
She was eventually arrested for prostitution in Florida and returned to the same foster family, where the abuse continued. She ran away again a year later and called "Master D," the only one she knew who could help her. She was arrested again for prostitution. It took social workers in juvie to realize she had been trafficked, then "help her probation officer realize other avenues for support than detention center and returning to her foster family."
Keisha was one of the lucky ones. Yes, lucky. And I realize that's an incredibly disturbing and infuriating truth.
In a small study, but one which worked with the data available at the time, researchers found that while juvenile prostitutes are less likely to be arrested than adults, they are more likely to be found in groups, outside, and in large urban areas. Police tend to find male juveniles more often, which they are more likely to arrest, than females, who are more likely to be "referred to authorities such as social services."
The younger the victim — 15 or under — the more likely they were to be classified as a victim rather than an offender. They say that, "Ambiguity exists because when a juvenile has sex with an adult in exchange for money, the juvenile may have committed a prostitution offense and may also be victim of a statutory or other sex crime. Presumably, when juveniles are pimped by adults they will tend to be seen as victims, and when they take a more active role in soliciting sexual activities, they will tend to be seen as offenders. But some of the categorization may reflect arbitrary features such as the demeanor of the juveniles, the sympathy that individual police officers may have for them, or the policies of the jurisdiction in which the incident occurred."
So basically, hope you get a nice copper, girls. But don't hold your breath because 74% of prostitution offenses involving juveniles also involved an arrest of said juveniles. Some cops think it's the only way to get them off the street. Some cops are woefully ignorant. Jail is not the answer for these children.
Cyntoia Brown is the current poster child for a movement that's growing, that's needed to happen for a long, long time. We're criminalizing behavior that happens under duress and abuse: NPR says that a 2015 report examining the "sexual abuse to prison" pipeline found that "the majority of girls" behind bars have suffered some kind of sexual or physical abuse, with numbers running as high as 81% in the great state of South Carolina. That bastion of liberalism, Oregon? 91%. It was "the victimization driving the abuse," says NPR, and that led to the "crimes" and the misguided arrests.
So free Cyntoia Brown. Right fucking now. Free all those girls and boys and transgendered teens and gender-queer kids and ambiguously sexed children jailed for the prostitution they were forced into by beatings, by rape, by forced drugs and alcohol. Exonerate them for the crimes, like underage drinking or robbery, they may have committed while they were being sex trafficked and abused by deranged adults. Expunge them their records. Get them mental health services, job counseling, educational resources. Help them reenter society. Help them heal.
We shouldn't be locking up Cyntoia Brown. Our society shouldn't be locking up these kids. We should be raising them up, with love, support, and empathy from the hell they've suffered at our dregs.