Freeform's '25 Days Of Christmas' Schedule Has Arrived And It Includes All The Classics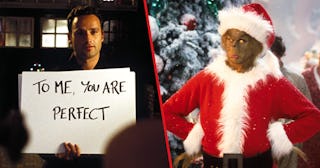 Universal Pictures/Getty
It starts soon, too — on Sunday
It's (almost) the most wonderful time of the year. With that, comes all of the binge watching that the festive period demands – and Freeform has announced its "25 Days of Christmas" schedule to keep us on track. Plus, here in the U.S., we have the small matter of an election happening next week, so anything we can do to distract ourselves from the impending anxiety is worth a look.
This year's list is a perfect mix of old and new, with the right amount of nostalgia thrown in for good measure. You can't do Christmas in my household without rom-coms like Love Actually and The Holiday; but I also live with a teenaged son (and Bruce Willis-loving husband) who demands Die Hard (RIP Alan Rickman). It's all about balance.
During its annual "25 Days of Christmas," Freeform is also premiering Almost Christmas, Dr. Seuss' The Grinch, and Daddy's Home 2, Incredibles 2, Cloudy with a Chance of Meatballs 2, Minions and Despicable Me 3 this year.
Of course, you have to get all of the Home Alone and Santa Clauses into the month because a falling Joe Pesci never gets old.
If you've never experienced "25 Days of Christmas," please prepare your finest pajamas for this annual event of Christmas programming broadcast on the cable network Freeform. It first kicked off in 1996 and has been annual fixture ever since.
They always air the classics, like It's a Wonderful Life and Miracle on 34th Street, but they manage to sneak in some movies that make you wonder, "Did I miss the holiday-ness of this movie when I watched it?" — like the entire Hunger Games series.
The fun starts this year on Nov. 1 (that's Sunday) and stretches the entire month of November. If you haven't seen your fave movie announced, not to worry. They are bringing back fan-favorite films, like Christopher Robin, Black Nativity and It's a Very Merry Muppet Christmas Movie. There is zero chance of getting through the holiday season without Miss Piggy.
We love that Freeform is already thinking about the holidays, especially considering they're still airing their "31 Nights of Halloween," which no one can believe is actually taking place this Saturday. This year has been weird, man.
Freeform isn't alone, either. Netflix also recently announced their lineup, so you have many ways to get your holiday on this year. If you need the full lineup (and who doesn't?), you can find it in all its glory on Freeform's website. It should be mentioned Freeform left out one of the most iconic holiday movies out of this year's line up: Elf. Here's hoping they mend their ways by 2021.
We need every single reason to rejoice this year, and thanks to Freeform, that process just got a little bit easier.