Freeform Released Its 25 Days Of Christmas Schedule
by Kristine Cannon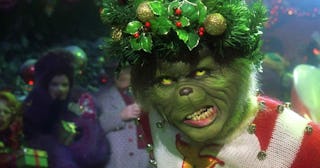 Universal Pictures
Freeform's 25 Days of Christmas schedule is packed with can't-miss flicks and specials
Some have their go-to holiday flicks they stream (or pop into their DVD player) every year. Some watch every sappy, lovably cheesy Lifetime made-for-TV holiday movie. Others, well, others eagerly await Freeform's 25 Days of Christmas — and this year's lineup does not disappoint — from Christmas classics, like The Little Drummer Boy and Dr. Seuss' How the Grinch Stole Christmas to even brand-new, original holiday movies starring some of your favorite actors.
Let's start with the new holiday films, reunions, and specials.
Freeform will debut Ghosting: The Spirit of Christmas on Wednesday, Dec. 4. Starring The Bold Type's Aisha Dee, the film "tells the quirky and heart-warming story of Jess, who goes on the greatest first date of her life, but inadvertently 'ghosts' Ben when she tragically dies in a car accident on the way home," Freeform describes. The longline continues: "Stuck on Earth with no idea how to ascend, Jess will need the help of her best friend Kara (Orange Is the New Black's Kimiko Glenn), the only person who can still see and hear her."
As a gift to fans of The Fosters, Freeform will also air the two-hour holiday special Good Trouble on Dec. 16. As part of this special, the Adams-Foster family reunites to spend Christmas with Callie and Mariana. According to the special's description: "In hour one, 'Nochebuena,' The Fosters visit the Coterie for Christmas and Callie struggles to tell her moms about quitting her clerkship, while Mariana agrees to volunteer for a holiday festival for the underprivileged. Alice is hiding a secret from the Coterie, and Davia strolls down memory lane with Dennis, opening old wounds." Hour two is titled "A Very Coterie Christmas," and the Fosters and the Hunters help out with the impromptu volunteer Christmas event.
The original programming doesn't end there, though, folks.
Freeform's new series, Wrap Battle, debuts Nov. 25, with new episodes airing through December. Throughout Wrap Battle, nine contestants battle to become the ultimate wrapper. The special stars The Talk's Sheryl Underwood, RuPaul's Drag Race's Carson Kressley, and Soolip Founder Wanda Wen. Celebrity judges include Tony Award-winning Broadway producer Candy Spelling, Sandra Lee, Vanderpump Rules' Lala Kent, designer Sabrina Soto, Good Trouble's Sherry Cola, and grown-ish's Diggy Simmons.
But, of course, Freeform's 25 Days of Christmas line-up has all the classics you could ever want, including The Santa Clause, Richie Rich's Christmas Wish, Rudolph the Red-Nosed Reindeer, Santa Claus Is Comin' to Town, I'll Be Home for Christmas, The Holiday, and Home Alone. The lineup even includes non-traditional holiday flicks, like Toy Story.
Take a look at the full schedule on Freeform's website.
In the meantime, Freeform just launched its Kickoff to Christmas for November, a month-long line-up of Disney hits, like Frozen, Moana, and Zootopia, the Freeform premiere of Marvel Studios' Captain America: The Winter Soldier, and even the premiere of Turkey Drop starring Olivia Holt on Nov. 23. Turkey Drop tells the story of Lucy Jacobs, a freshmen university student who returns home to her small-town for Thanksgiving break and suspects she's about to get dumped by her high school sweetheart. The film also stars Curb Your Enthusiasm's Cheryl Hines, Legacies' Ben Levine, LA's Finest's Tyler Perez.
Happy holiday watchin'!
This article was originally published on