You Can Stay At 'The Fresh Prince Of Bel-Air' Mansion For $30 A Night
by Julie Scagell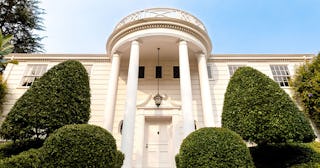 AirBnb
If you live in Los Angeles County, you need to jump on this
Smell ya later. Now you can live like a Banks thanks to Will Smith. The actor and father has partnered with Airbnb to rent out the famous Brentwood mansion for guests to stay (Geoffrey not included). The best part? To celebrate the series' 30th anniversary of the iconic series the Fresh Prince Of Bel Air, it'll only cost you a cool $30 per night.
For several nights in October, guests will be able to stay for a night in Will's wing of the "decked-out mansion" with access to "Will's posh bedroom and bathroom, a poolside lounge area, and an elegant dining room," the Airbnb description reads. If that's not enough, guests will be (virtually) welcomed by none other than DJ Jazzy Jeff before giant Philly cheesesteaks are served on silver platters (duh).
"Bold graffiti art, posh interiors, and timeless family portraits" will adorn the walls and it looks like there's plenty of space to bust out The Carlton as many times as one feels it necessary.
Guests will also have the ability to lace up a fresh pair of Air Jordans before shooting basketball in the bedroom, spin "throwback classics all night on turntables just like DJ Jazzy Jeff's," which are taught by the hip-hop legend himself, and dress up in anything hanging in Will's closet, "from argyle prepster to all-star athlete and Bel-Air Athletics gear."
"It's your crib for the night, so feel free to act like you own the place," Smith stated on the listing.
The experience is also timed with the newly announced reboot, Bel-Air, which was recently picked up for two seasons on NBC's streaming service Peacock. Airbnb will also make a donation to the Boys & Girls Clubs of Philadelphia. "To celebrate the feeling of family and community that was so memorable from my time in this home, Airbnb will make a one-time donation to a local organization in my hometown, the Boys & Girls Clubs of Philadelphia," Smith said.
Of course, there are some restrictions. There are just five separate one-night stays available in October for two people maximum due to coronavirus (living in the same house). You also have to be Los Angeles County residents. The good news is the property will adhere to Airbnb's enhanced cleaning protocols during the pandemic.
You're gonna want to have fast fingers for this one. Bookings will open on Tuesday, September 29 at 11 am PDT and since this isn't a contest, it's first come, first served. Check out more about the listing here and good luck to all who are eligible.