5 Must-Ask Questions For Your Friend Who Is Expecting By Birth Or Adoption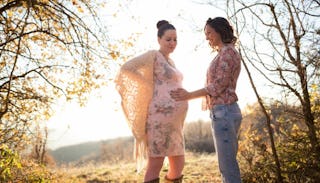 miodrag ignjatovic / iStock
As a mom-by-adoption, while I was waiting for the arrival of my children, I was often left out of mommy conversations. Things like pregnancy weight gain, birthing plans, circumcision debates, ultrasound picture pass-arounds, and more had nothing to do with me. Though I was happy for my friends who had babies the "old-fashioned way," I yearned to be included amongst the ladies I was closest to. Of course, they didn't intentionally exclude me, and most wanted to be supportive, but they weren't sure how.
RELATED: 30+ Important Questions To Ask A Pediatrician Before The Baby Arrives
No matter how your friend's baby is coming to her, here are five questions you can ask a mom-to-be by birth or adoption:
1. How Are You Feeling?
Whether your friend is anticipating the arrival of a new bundle of joy or the baby has already been born, it's good to check in with your friend to see how she is feeling not just physically, but emotionally. Moms-by-birth can experience postpartum depression, and moms-by-adoption can experience post-adoption depression. If your friend expresses struggles, make sure to ask question No. 2.
2. How Can I Help?
Many people say things like, "Call me if you need something," but rarely do friends ask a mom-to-be how they can specifically be of service. If your friend says, "I'm OK," but clearly isn't, don't wait for specific requests, because they may never come. Instead, drop off a surprise cup of coffee, offer to babysit for a few hours, make her family a meal, or volunteer to drive the new mom to an appointment.
3. May I Throw You a Baby Shower?
A mom-to-be, no matter how her baby comes to her, deserves some positive attention. Showers today don't always involve cheesy games, iced sheet cakes, and a women-only guest list. There are couples' showers, showers at wineries and art centers, showers with cool themes like "A Night in Hollywood." With moms-by-adoption, a shower post-baby-arrival may be more appropriate than a gender-neutral themed shower.
4. Have You Decided on Names/a Nursery Theme/a Pediatrician?
Share in your friend's excitement by asking questions that encourage. This is also a great opportunity to recommend a local pediatrician you like, offer to go shopping with her for nursery accessories, or buy her a baby names book. No matter what the mother-to-be decides upon, be there to support her choices and applaud her efforts. All moms need cheerleaders.
5. What Are You Most Excited About?
Expecting a baby, whether by birth or adoption, has its challenges: Pregnancy weight gain for moms by birth and an unknown "due date" for moms by adoption, for example. There are meddling mother-in-laws, mommy wars (breastfeeding vs. bottle feeding. God help us all!) and normal fears of first-time moms.
Help your friend focus on the upsides of her situation. Whatever she is most excited about, say being able to have wine again after giving birth, support her by buying her a favorite bottle of wine to have on-hand when she comes home from the hospital. For a mom-by-adoption, a copy of What to Expect in the First Year may help ease some of her first-time mommy worries (and wine is also appreciated).
Being a good friend means showing up in ways that others do not. It means being there not just the first few days after a little one arrives, but being there months into the baby's first year. It means asking questions gently, responding honestly, and always supporting your mom friend, even when she doesn't ask for it.
This article was originally published on