Artist Is Auctioning Off Iconic Works That Appeared On 'Friends'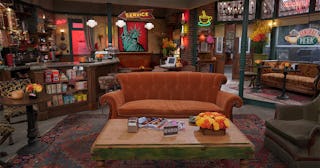 HBO Max
Act fast! the NFT collection, titled The Art of Friends is up for auction until June 7
Still miss your Friends? You may have a chance to own some memorabilia from the classic series. Artist Burton Morris debuted his first NFT collection, which he titled The Art of Friends. The TV show Friends featured more than a dozen original works by Morris, including the artwork behind Central Perk's orange couch.
Morris took to Instagram to express his excitement over the Friends reunion. "Love how that Statue of Liberty painting pops in Central Perk! Excited to see the Friends Reunion tonight," Morris posted.
The artist also seemed stoked that Justin and Hailey Beiber were pictured at Central Perk (alongside Jennifer Aniston and Courtney Cox). "Excited to see my Statue of Liberty painting hanging on the set of Central Perk for the upcoming Friends Reunion! Can't wait to watch," Morris captioned the photo.
From June 3 through June 7, People reports fans can bid on these pieces in a five-day auction.
"The future of these iconic works are now in the hands of the fans that made Friends one of the most beloved series in television history," Morris in a statement.
"I remember the day my sister called to tell me she saw an actor on a new television show called Friends wearing a tee-shirt featuring my artwork of a big hitter baseball player. The actor was David Schwimmer (Ross), who wore it during the taping of the third episode," the statement continued.
"The next day, I connected with show creators who decided they wanted to feature my art on the set. Twenty-five years later, collectors and fans can own and immortalize the show's influence through The Art of Friends for generations to come."
Bidding will begin at $100 on 11 non-fungible tokens (NFTs), including Coffee Cup, King Kong, and Lady Liberty.
'Big Hitter,' the iconic piece that launched Morris' long-lasting career on Friends, can be purchased for $150 in a limited edition.
Morris' work as a pop artist often taps into cultural and familiar themes.
Kanye West commissioned Morris to work on a series of paintings based on the cartoon The Jetsons. "Looking back on this great collaborative commission for the one and only Kanye West," Morris captioned a canvas of Elroy.
Crypto collectors and NFT fans can buy, trade and re-sell the NFT auction items on the platform using what is called Etherium (ETH). Fans will be able to obtain proof of ownership and authenticity of the artwork after making a purchase. Morris' The Art of Friends auction closes on June 7.