Oh. My. GOD: There's A New 'Friends'-Themed Makeup Collection
by Valerie Williams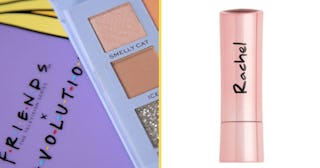 Ulta
This new "Friends" makeup line at Ulta will make your day, your week, your month, and even your year
It's been 16 years since the series finale of Friends aired (hold me) and the characters are still relevant pop culture figures. Especially for those of us old enough to have watched the iconic show when it was airing and meticulously labeled each of our real-life friends as Rachels, Monicas, or Phoebes. Now, we can own the makeup to match our onscreen nostalgic doppelgangers because Ulta's released a line of Friends-themed makeup that pays homage to all three ladies.
Revolution Beauty's Friends collection is everything your fantasy gigantic NYC apartment-dwelling heart desires and the best part? Every product is less tan $25.
The line features three 9-shade eye shadow palettes and three lipsticks — one of each type for Rachel, Monica, and Phoebe. The packaging for each palette features images relating to the characters. Phoebe's shadow palette has a photo of her taxi. Oh, and all of the shades have character-specific names that fans will definitely understand and appreciate. Phoebe's includes "Smelly Cat," "Lobster," "Science Boy" and "Ditsy." Perfection.
The lipsticks have the character's name on the tube and come in a color that speaks to their personality — bright for Phoebe, muted and practical for Monica, and an on-trend mauve for Rachel.
And of course, Monica's palette has her apartment's now-iconic purple door with gold frame around the peephole. The names of her shades pay homage to her career ("Chef"), her love of tidiness ("Clean"), her hair ("Frizzy"), her personality ("Obsessive"), and of course, her dude BFF turned husband ("Bing").
Rachel's palette features the orange couch from Central Perk where she worked serving coffee before her career in the fashion industry took off. The shades are nods to her boyfriends ("Dinosaur" for Ross and "Tag" for her super young boyfriend, and "Chip" who no-showed for her prom), and her career ("Barneys" and "Shopping").
And if you're a true fanatic, you'll want to snap up this palette featuring shades named after the main crew and several supporting characters including Janice, Gunther, Emily, Marcel, Richard, and Ursula.
The front of the big palette is to-freaking-die-for, BTW.
Several of the items are already out of stock, so make sure to sign up for alerts from Ulta on when they'll be restocked. We can't really blame people for wanting to grab up such fun makeup during this dumpster fire of a year. If there was ever a time when we wanted to do our makeup like our fave '90s TV icons, it's now.
This article was originally published on