Behold, The 'Friends' Ornaments You Always Knew You Needed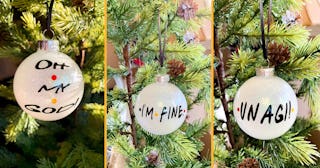 EnglishBliss/Etsy
These Friends-themed ornaments will be the talk of Christmas
Most of us Friends fans have been in mourning ever since we learned the cult-classic was leaving Netflix. And what better way to honor the crew than by having the show's most iconic quotes dangling from our respective Christmas trees in the form of adorable ornaments?
This year, when you're decking your halls, consider adding a few funny Friends quotes on your tree. Etsy shop owner English Bliss is selling shimmering bulbs with some popular quotes from the series written on them, including, "They don't know that we know they know," "How you doin'?" "Shut up shut up shut up," "Pivot pivot pivot," and, "If I had to, I would pee on anyone of you."
The ornaments would make the perfect gift for the guy or gal you know who drops at least one or two Friends quotes into every conversation (you know who you are). They're also perfect White Elephant gifts for a work gift exchange. Plus, it's fun to read them and see who can give context around who said it and what they were talking about. It's Christmas tree décor and a conversation piece all wrapped into one!
The Friends ornaments are selling for $10, or you can order a customized set of four for $30. Each white, sparkling ornament features a different phrase written in the instantly recognizable font from the credits of the show. You'll need to act fast, though, if you want this holiday-appropriate Friends merch; these puppies are flying off the shelf, and the shop owner notes that filled orders aren't shipping for four to six weeks.
If you can't wait till Christmas to get your Friends on, one event company is playing Thanksgiving-themed episodes in theaters nationwide this weekend. According to Fathom Events' website, all of the "Friendsgiving" episodes are newly remastered and fitted for the big screen, so we can enjoy "Joey wearing All Of The Clothes" with our friends.
According to the Etsy page, each ornament is three inches in diameter, so you can definitely fit a bunch on your tree. They come ready to hang with black ribbon, and because they are so cute, you know they'll get prime location front and center on your Douglas Fir. Plus, shopping on Etsy means you're supporting a small business, so it's a win-win for the holidays. Could that be better news?