'Friends' Thanksgiving-Themed Episodes Are Coming To The Big Screen This Holiday
by Julie Scagell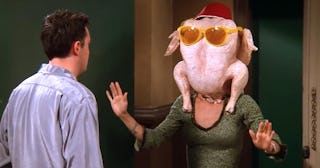 NBC
The 'Friendsgiving' event will take place in theaters on November 24 and 25
Most of us Friends fans have been in mourning ever since we learned the cult-classic show was leaving Netflix. Though we have plenty of reruns to consume on cable, it seems we can never get enough of Chandler, Ross, Joey, Monica, Phoebe, and Rachel. And now we can get an extra serving of the Friends gang this holiday season thanks to one events company.
After friends and family come together to give thanks and stuff their faces on Thanksgiving, Fathom Events is giving folks another option besides the standard football games or incessant political discussions with your racist uncle — a Friends theatrical release.
Friends' Thanksgiving-themed episodes will play in theaters nationwide on November 24 and 25. According to Fathom Events' website, all of the "Friendsgiving" episodes are newly remastered and fitted for the big screen.
"Friendsgiving will reunite fans with their longtime BFFs — Ross, Rachel, Joey, Monica, Chandler and Phoebe — to relive some of their funniest moments," Fathom Events stated. "Fans will watch as Monica puts a turkey on her head, Rachel makes a curious trifle cake, Ross reveals an old secret, Chandler declares his love for Monica, Joey tries to devour an entire turkey, and Phoebe exposes something curious about Chandler's canine allergy."
The beloved show was brought to theaters this past September for its 25th anniversary, playing at over 1,000 locations nationwide. Needless to say, it was well-received. Tickets are available now on Fathom Events' website, so get them now to secure your spot. Simply put your zip code in and the theaters nearest you showing the special will pop up and you can book online from there.
"The cultural impact that Friends continues to have, 25 years after its premiere, is astounding," Lisa Gregorian, the president of Warner Bros. Television Group, told Entertainment Weekly when the anniversary shows aired. "It is so amazing to know that the series is still bringing people of all ages together. We could not be more excited to deliver these digitally remastered episodes to theaters — for the first time ever! — so that together, in a shared experience, our loyal fans can enjoy some of their favorite Friends scenes in a new way."
The entire Friendsgiving production lasts about as long as a regular film — just over two hours. Plenty of time for the stuffing and turkey to digest and for you to make it back home for round two. "Join Fathom Events and Warner Bros. Television for a special two-day screening event of eight turkey-themed episodes. It's a Thanksgiving miracle!"
Could there be a better way to spend Thanksgiving?