A Message For My Friends Who Still Have Their Mothers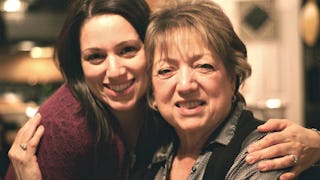 Jessica Wolstenholm
Dear friends who still have their mothers,
It came like a thief — 10 months almost exactly from the day she was diagnosed until the day she left us. Cancer has a way of doing that, robbing its victims and their families of health and freedom. One day we're doing life together, making plans for the future, and the next we're fighting this battle and eventually saying goodbye.
I never imagined I'd lose my mom this way or so soon. I couldn't have planned or prepared for it. Her fate swooped in like a thief and took her away before I ever had the chance to fully realize what was happening.
And because of my faith, I stand with peace and continue to hope, but still…
This Mother's Day, I am — for the first time — a mom without a mother. I will receive cards and gifts and lots of love, but I cannot give them. I cannot express my gratitude, despite her imperfections, with lavish love. I cannot thank her for all she taught me about being a mom, both good and bad. I cannot share how much she's impacted my life, as a mom and a wife and a woman.
So dear friends who still have their mothers,
Whether you walk extremely close or there's a valley of difference between you, reach out to your mother this week.
Whether you see eye to eye or you can't agree on much of anything, look your mother in the eyes if you can and tell her how special she is.
Whether she's loved you well or lacked in affection, tell her how much you appreciate her and linger in love through words or embrace.
Whether she's been your role model or she's shown you what not to do, tell her how much you've learned from her.
Whether she's been a near perfect mother or a much less than perfect one, she's still here and that fact alone leaves so much potential for you both.
Call her, embrace her, surround her with your love whether it comes easy or along with tons of baggage.
Reach out for reconciliation if you are estranged.
Reach out in compromise if you are indifferent.
Reach out with time and attention if you are busy.
Reach out with affection if you are reserved.
Reach out with generous love even if you already do it regularly.
This time last year, I never dreamed I'd spend Mother's Day without my mom. Please, don't let another day slip by without connecting with yours.
Happy Mother's Day, friends. May you find grace to give and receive so much love.
This article was originally published on