Op-Ed From The ACLU: Biden Must Act On Family Separation ASAP
by Madhuri Grewal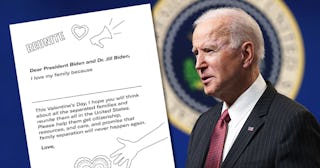 Alex Wong/Getty and ACLU
In the wake of Trump's presidency, parents are grappling with how to talk to our children about the impact on our country. The Trump administration's policies were not just news headlines for me — I lived the impacts daily. I fought against them at work, only to go home and live them as a mother, the daughter and spouse of immigrants, and a woman of color.
In January 2018, as immigrant communities faced relentless attacks from the Trump administration, I started working for the ACLU as the federal immigration policy counsel. Just one month into my job, my colleagues sued the Trump administration for separating our client Ms. L from her 7-year-old daughter. I still feel a gut punch when I think about what Ms. L went through: Immigration agents took away her daughter with no explanation. Ms. L could hear her daughter's frantic wailing, begging the agents to let her stay with her mother.
For an excruciating four days, Ms. L didn't know where her daughter had been taken. A 7-year-old girl, like so many other children separated by the Trump administration, sat terrified and alone in a government facility 2,000 miles away from her mother. By the time we filed our lawsuit, they had been separated for four months and only allowed to speak by phone six times, and never by video.
The ACLU later expanded the lawsuit, as we heard about more immigrant families forcibly separated. Some children were just babies, still nursed by their mothers. My professional life was consumed by the excruciating details of the Trump administration's family separation practice. At home, I wasn't quite sure how to talk about it with my own child, who was just shy of 3 years old at the time. My spouse and I (now pregnant) took our son to protests in the streets and in Congress, teaching him to chant "families belong together," while knowing that children the same age as ours were snatched from their parents by the U.S. government.
Over the next two years, family separations continued and I gave birth to a second child. My oldest started to ask more about my job, and I gradually began to talk more about the ACLU's work and what that meant: "Your family came here from India, and almost everyone in this country has come here from another place. Mommy works to make sure that immigrants who are here and are trying to come here are treated fairly, which isn't happening, especially for Black immigrants."
This past year, our country faced a pandemic, protests, and frenetic assaults on people of color and immigrants by the U.S. government. My oldest turned 5 and started worrying about U.S. leaders "who kick people out of the country" and painting Black Lives Matter protest signs. Our youngest — only 1 year old — was content to bob along in her stroller in solidarity.
While I am an expert on immigration policy, I am a second generation immigrant, woman of color, and a mother first — and talking to my kids about this has been hard. I constantly straddle the line between sharing too many details about racism and xenophobia while wanting my children to understand their privilege, luck, and responsibility to do good.
The plight of immigrants and separated families is not some "lesson" for my children. For 11 million undocumented people in this country, the fear of family separation due to detention and deportation is a daily reality. For the approximately 5,500 families separated by the Trump administration, their irreparable trauma isn't simply a story they can put back on the shelf. It doesn't feel sufficient to just talk, though I fully appreciate how critical these conversations are. I also want to guide my children into channeling their feelings into action and join movements to drive meaningful change.
We know the harm to children from these separations can be permanent. But our government did this, with our taxpayer dollars, and we must demand it begin to make amends. There is a long road ahead for separated families. Families must be reunited and brought back to the U.S., where they can live free from detention and deportation. The Biden administration can do this, without any new laws from Congress.
Many of you reading this are parents thinking about how you would react if you had to flee your country, finally reached a place where you thought you could find safety, and then had your children ripped out of your arms. We have an opportunity to demand justice for the families that our country traumatized and ensure our government never does this again. So to start this new year, we'll use my kindergartner's new writing skills, complemented by my toddler's scribbles, to send a Valentine's Day card to President Biden. We are asking him to provide all separated families relief; these families must be reunited in the United States and they deserve citizenship, resources, and care, along with a commitment that family separation will never happen again.
I will never know whether I've said all the right things to my children about the world around us. But when they look back on this period, I hope they will remember how they saw injustice and learned how to take action and use their voices to demand that their home country treat all people with compassion and dignity.