From The Confessional: Y'all Are Some Freaks In The Sheets
by Team Scary Mommy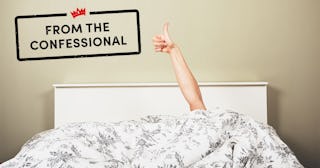 lolostock/Getty
We all hear the jokes about avoiding our spouses and pretending we're asleep or have a headache or are on our periods so we can get out of sex. But the truth is, lots of women still really love sex—even after kids. Even after having their bodies stretched and ripped open and stitched back up and engorged and leaking. In fact, some of us want it more than our partners do and feel sexually frustrated when that desire is not reciprocated.
So don't discount moms as being non-sexual robots just yet, folks. There's still a sex kitten in there—sometimes she's just tired AF from doing alllll the things for alllll the people who don't appreciate or even notice most of it. But here's the secret: if she can get a little sleep and a little me-time, Sexy Mama is more likely to appear.
(Also, maybe give her a few years to get out of the baby/toddler years—once her boobs stop spraying milk across the room, and her uterus stops being a baby hotel, sex gets easier and more fun.)
DH and I stayed up half the night last night having off the wall, crazy, amazing sex!! It was FANTASTIC
Confessional #25801666
DH got some medical-grade weed from a guy at work. BEST. SEX. EVER.
Confessional #25800226
thanks to shameless's lip and kev for my sex drive going up, had amazing sex with DH 4 times this week and i want more.
Confessional #25797634
I want to go away for a weekend with DH and a bag full of sex toys
Confessional #25801481
Married sex can be hot. Married sex in a hotel for the weekend with a bag full of sex toys can be reeeeeeally hot.
I think about sex all day long
Confessional #25799939
I'm almost 46yo and I think about sex constantly. My drive is off the charts. DH and I have great sex, I just want more. ALL THE TIME.
Confessional #25799004
DH is only good for one fuck every other day. I wish we could have sex twice in one day.
Confessional #25798956
I'm so glad I'm not a man. I feel like I would be walking around with a constant boner. I'm almost always thinking about sex. Sex drive is thru the roof but not getting any. Married so can't go have it w/ anyone else. FUCK!!!
Confessional #25798779
Newsflash! Lots of women think about sex all the time and wish we could have more of it.
Never knew best sex would be during the pandemic, while working from home with DH.
Confessional #25801189
Major bonus to working from home is afternoon sex.
Confessional #25798552
Yesterday morning while drinking coffee of the deck in my jammies with DH I stood up, dropped my panties to the ground in front of him & walked inside. Its so nice to start the day with good sex.
Confessional #25799985
And having our SOs around means more opportunities for boom-boom. (So this pandemic isn't all bad.)
Been divorced for 3 years and finally have a new boyfriend. I never knew sex could be so good until now! What was I waiting for?
Confessional #25801052
I feel like since entering my late 30s I've had a total sexual awakening. I love having it, we're trying new things, we even post anonymous pictures of me on Reddit and I LOVE it. Why did it take so long for me to feel this good about myself?!!
Confessional #25799234
I have amazing sex with him. We are both single and neither one wants to jump into a relationship. We usually see each other once a week since July. We have missed a couple due to circumstances. I can't get enough of him.
Confessional #25798707
A new relationship or sexual awakening is often the spark we need to remember just how amazing sex can be.
I'm single. While I'm always horny and have to manage it myself and miss sex like the dickens, I am happier than I have ever been.
Confessional #25800619
I had the HOTTEST sex dream today. I came in the dream (maybe IRL too? IDK I was sleeping.) I haven't had sex in 5 years (single mom). I hope it's one of those dreams that mean something about what's coming up!
Confessional #25800380
Married women like sex. But do you know who wants it the most? SINGLE women.
I want to have wild sex with my husband but he's asleep.
Confessional #25800606
I really enjoy sex with dh. Only prob is I am so exhausted it's too much effort. Ugh. Wish I could just manage things better. Always feel like I'm playing catch up with something or everything.
Confessional #25800374
The thing is, sometimes we are just too tired. But that doesn't mean we don't like sex or want sex. We just really really also want sleep. Maybe sex tomorrow?
So if you're a woman who actually still loves a good mid-day romp, or enjoys an occasional middle-of-the-night quickie before rolling back over to your side of the bed, or longs for a hot sex-filled weekend getaway with your partner, keep fanning that flame because you know what? We are hot and we are sexy and we should enjoy all that sex has to offer as long as we can.
(And if you're too tired today, take a nap. You can be a hot sexpot later.)
This article was originally published on