Frontline Nurse Tearfully Reacts To Trump Downplaying COVID-19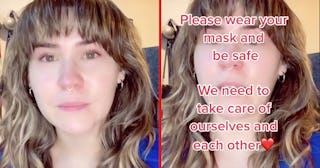 foleyfriends/Tik Tok
After seeing hundreds of patients "suffocating to death" from the virus, a nurse has a message for Trump
A Seattle nurse is sending a strong message to Donald Trump after he told the world that COVID is no big deal — "How dare he."
Cristina Hops, who has been working on the frontlines for months helping those hospitalized with coronavirus, said she got home from a shift and read what Trump said about the virus. The president tweeted in part after testing positive, "Don't be afraid of Covid. Don't let it dominate your life."
Hops took to TikTok to express her outrage, saying, "I have seen hundreds of people suffocating to death and for him to say do not be afraid of Covid is astounding, "she says in the video. "How dare he undermine all of the work that we have done as nurses and health care providers." Hops posted the video, saying, "I can't make a coherent thought because of how angry I am. Maybe more on this later, right now I need to breathe."
Her message clearly impacted those who watched it and has been viewed hundreds of thousands of times. "I'm so angry," Hops continued, "I just cannot compute."
According to CNN, Hops was sent to Miami, Florida, for five weeks to help a hospital that was seeing an influx of patients battling the virus. "The hospital that I was working at was completely overrun," she said. "It's not possible to give everybody the care that they need and deserve when the hospital is that full."
More than 7.6 million people — including the President, First Lady, and many members of his administration — have contracted coronavirus in the U.S., and over 212,000 people have died, according to Johns Hopkins University. On Thursday, we reported more than 56,000 new confirmed cases of COVID-19, making it the country's highest daily increase since mid-August.
Analysts from the U.S. Centers for Disease Control and Prevention (CDC) have also reported that there could be an increase in hospitalizations throughout the U.S. in upcoming weeks, according to The Hill.
"People are going to take this (Trump's words) as everything is okay and it's not a problem anymore and that's just not the case," Hops told CNN. "It's just not true. What's most important is that we're taking care of each other and we're looking out for each other. And I don't feel like his tweet or any of his tweets reflect that."
Hops was visibly upset in the video and had a message of her own after seeing hundreds of people over months battle the virus. "I just want you to know COVID is still out there," Hops said. "And it is very scary."
Information about COVID-19 is rapidly changing, and Scary Mommy is committed to providing the most recent data in our coverage. With news being updated so frequently, some of the information in this story may have changed after publication. For this reason, we are encouraging readers to use online resources from local public health departments, the Centers for Disease Control, and the World Health Organization to remain as informed as possible.