These Froot Loops Donuts Will Have Your Inner Child Squealing
by Valerie Williams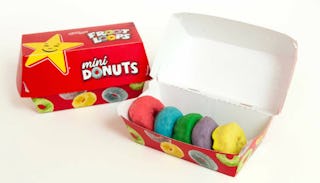 Image via CKE Restaurants
Froot Loops Donuts are your new breakfast obsession
Exciting news if donuts that taste exactly like your favorite childhood (and adulthood, TBH) cereal are your thing. Froot Loops Donuts exist, and they look absolutely mouth-watering — and nostalgic AF.
If you've ever gazed into your bowl of yummy Froot Loops and wished they'd grow up to be donuts, your dream has come true. Hardee's and Carl's Jr. now sell these adorably colorful treats and I need to get my hands on a box ASAP.
They come in five Froot Loop flavors — red, blue, green, purple, and yellow. Yes, I'm sure they correspond with some fruity flavor, but if you're eating donuts loaded with bright colors, are you really concerned about fruit in that moment? No. You are not.
So far, people are loving them.
Besides their obvious Instagram-worthiness, they're apparently very tasty and smell (and look) just like the real thing.
https://www.instagram.com/p/BnCQENeAU-p/?utm_source=ig_embed
We seriously need these in our lives, along with some My Little Ponies and several episodes of Saved by the Bell. It's 1994 up in here and I won't hear a single negative word about it.
Perhaps the best part? They're available at all Hardee's and Carl's Jr. stores, not just a limited test market. So get out there and grab a box full of these delightfully colorful goodies.
This article was originally published on