'Frozen 2' Has A New Release Date - In Time For The Holidays!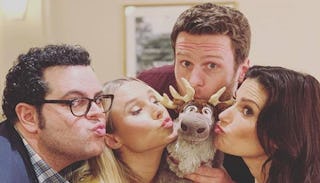 Image via Instagram/Josh Gad
And fans are freaking out over a superstar's mention in the Instagram post
Good thing the cold never bothered the cast of Disney's beyond smash hit Frozen, because amid this ridiculous polar vortex, they still shared adorable pics on Instagram about the upcoming Frozen 2's release date. And let's just say all of your 2019 holiday wishes will come true.
The franchise's stars Kristen Bell, Josh Gad, Idina Menzel and Jonathan Groff mugged for the camera while all smooching a stuffed Sven the Reindeer. Gad shared the image on his Instagram and it's basically the cutest. The caption reads "Soon enough…" and we've gotta say, that's kind of misleading since we don't get to rush to theaters for the new installment until November 22nd.
It's pretty great news, because the previous release date was November 27th, so now we get to head back to Arendelle a full week earlier. Bell also shared the sweet snap with the caption "Nov 2019!!! ❄❄❄👑🦌☃️👑❄❄❄ #frozen2 #frozener"
Idina Menzel posted a different but equally adorable image to her Instagram of the crew of four hanging out.
"Just a little morning Arendellian love," Menzel writes.
But what everyone can't stop talking about are the tags on Gad's photo:
We see Bell tagged, Idina tagged, and… The Rock tagged as Sven?
This has sent the internet into quite a frenzy, but let's remember that Maui briefly transformed to Sven when his shapeshifting powers were going awry in Tamatoa's den. Also Sven doesn't speak. Not to say we wouldn't love to see The Rock in absolutely anything.
But odds are, it's just a cute cast joke and we will have to stick to Moana to get our fill of The Rock in Disney films.
That said, the photo on its own is pretty stinking sweet and very exciting, because us parents have waited a long time for this movie so we have new songs to listen to on repeat for the next five years.
The new film also has new actors voicing characters — Sterling K. Brown and Evan Rachel Wood are new to the cast, but their roles are still unknown.
We've still got quite a few months before our homes are once again filled with new Frozen material, which isn't to say we want to rush summer, especially as we suffer through this freezing weather.
But we literally cannot wait for Elsa, Anna, and the gang return. Until then, we'll just keep blasting "Let It Go" while we beg 2019 to fly by.