The First Full-Length Trailer For 'Frozen 2' Is Finally Here
by Christina Marfice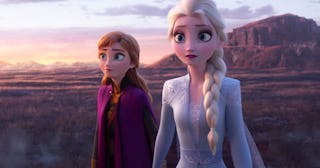 The Walt Disney Company/Youtube
Stop everything and watch Disney's first full-length trailer for Frozen 2
In the first Frozen, Elsa's ice powers put her — and her entire kingdom — at risk. In Frozen 2, they might be the key to saving the world. That's what we've learned from the chill-inducing trailer that hit the internet today — the first full-length trailer to be released for Disney's most anticipated sequel of the year.
In just under two minutes, we see more scenes from the upcoming film than have been revealed in any teaser videos, but we still know very little about what to expect from the plot of this movie. Disney is keeping details tight under wraps lately about its upcoming releases, and Frozen 2 is no exception. The movie's official description reads simply, "Why was Elsa born with magical powers? The answer is calling her and threatening her kingdom."
Here's what we were able to glean from the new trailer.
The tone is a little darker than the first movie, and though we already know this is going to be a musical, Disney isn't revealing any of the music just yet. Maybe that's a good thing, because you know the second your kids get ahold of a few bars, they'll be singing them for the rest of their days. If nothing else, "Let It Go" taught us that.
It also seems like this movie might delve into Elsa's backstory, and we may learn why she was born with her powers. In a voiceover throughout the trailer, Pabbie the troll hints at that.
"Elsa, the past is not what it seems," he says. "You must find the truth. Go north, across the enchanted land and into the unknown. But be careful. We have always feared Elsa's powers were too much for this world. And now we must hope they are enough."
Scenes show Elsa, Anna, Olaf and Kristoff on an adventure outside of Arendelle, presumably to the north, like Pabbie said.
The trailer ends with a powerful promise from Anna: "I won't let anything happen to her."
Most of the major players from the first Frozen are returning, including Idina Menzel as Elsa, Kristen Bell as Anna, Josh Gad as Olaf, and Jonathan Groff as Kristoff. Jennifer Lee and Chris Buck both returned to direct, and Kristen Anderson-Lopez and Robert Lopez wrote the score, so you know the music will be on par with the first film — if not even better.
Bell has been hyping the movie on her social media; just yesterday, she shared the official Frozen 2 poster to Instagram with a caption reminding people to be on the lookout for the trailer when it dropped today.
Frozen 2 doesn't hit theaters until November 22, but in the meantime, there's plenty of other Disney to tide us all over. Toy Story 4 drops next week, and the live-action remake of The Lion King will be out in July.