'Frozen' Cast Member Snatches Trump Flag From Audience During Curtain Call
by Cassandra Stone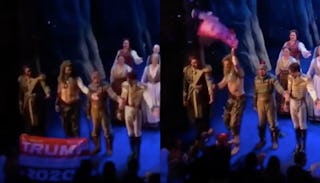 Image via Instagram/Timothy Hughes
The actor also delivers a cutting set-down to the people who brought the Trump flag to the show
For reasons unbeknownst to anyone logical, someone in the audience at Frozen on Broadway brought a Trump flag and began waving it, front and center, during the curtain call on Wednesday night's performance.
One of the cast members was having absolutely none of that nonsense and promptly snatched the flag out of the protestor's hands. You can see the amazingness for yourself, as it's all caught on video.
As a lifelong theater lover and member myself, I cannot fathom why anyone would bring such blasphemy into a house of inclusion and acceptance. Like…really? Come on. Timothy Hughes, the actor currently playing the role of Troll King, proves not all superheroes wear capes. Some don't even wear shirts, but do don a spiffy Troll wig to carry out their acts of justice.
He also refuses to apologize for snatching the "Trump 2020" flag — because honestly, why the hell should he? For one thing, he did it swiftly and beautifully. Just completely tossed it into the depths of stage right where it belongs. For another, the person who brought it and waved it wildly obviously intended to incite a reaction. And they sure as hell got one.
"What does it say about our country and politics when a man at the show tonight felt the need to protest Disney's Frozen on Broadway with a pro-Trump flag?" Hughes writes in an Instagram post about the incident. "How frightening is it that our show's message of love, acceptance, and diversity have become the opposition to supporting Trump?"
His words are blunt and ring frustratingly true. According to HuffPost, the Trump supporter apparently stood outside the theater after the show threatening to sue if he was not given back the flag, according to a fellow theatergoer. Honestly, this asshole — who must have paid hundreds of dollars per ticket for those killer seats only to make a negative spectacle of himself — needs to make like Elsa and "let it go."
The theater community is one of the most welcoming atmospheres in existence. I found my truest self and my home there a long time ago, and countless others from every walk of life find love and peace there, too. Staging a #MAGA protest during the curtain call of a popular show geared toward children is a calculated, shitty thing to do. Plenty of people agree.
"The curtain call is a thank you between actors and audience, a final connection to end a shared experience," Hughes says. "I will not apologize for how I responded to the disrespectful man trying to interrupt this moment with a pathetic political platform. Not at our show! Not in front of my beautiful, diverse, talented cast at Frozen Broadway. I appreciate everyone's support."